Meet Fellow Rokhl Kafrissen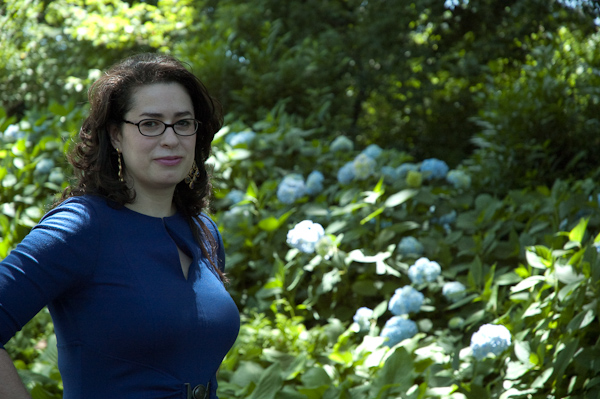 Rokhl Kafrissen's life over the last two decades has proceeded along two parallel tracks, as a legal professional and as a Yiddish cultural worker. Though she wasn't the only lawyer at her firm with a second career as a 'creative', she was probably the only one who could say she was working on behalf of Exxon on Monday and writing for old Jewish Communists on the weekend. In 2018, after many years at the law firm, she gave thanks for the steady parnose and gave notice. She has been full-time freelance since then. Her journalism career actually began in law school, where she published three issues of her own cut-and-paste 'zine, Rootless Cosmopolitan. The 'zine led to having her own column for Jewish Currents, which led to a spot in the wonderful (and now defunct) Avi Chai Writers' Seminar on the Jewish People in 2009. Soon after that she entered the op-ed space, where her out-of-the-box takes on Jewish life have been irritating Jewish leadership ever since. In 2017, Tablet asked her to create a twice-monthly column about modern Yiddish life and culture, which has been an absolute thrill.
LABA PROJECT
My as-yet-unnamed theater project is a dramatic two hander, with a little bit of doubling. It's the story of a present day performance studies grad student in the East Village and what she hopes to be the research find of her career. In the process, she comes up against the limits of memory, and remembering. Jess Bergman is a fifth-year graduate student in performance studies. After five years her advisor seems to have forgotten who she is. Her research on the queer Yiddish cabaret of interwar Poland is going nowhere. One day she and a classmate, Gareth, are walking past the Yiddish Theater walk of fame on Second Avenue. He points to one of the names: Fanja Szajnfeld, fourth and last wife of Yiddish cabaret impresario Max Szajnfeld. She's alive, Gareth says, and, not only that, she's living a few blocks from Jess, on Grand Street. Elated, Jess assumes 2 semesters of college Yiddish (and a summer of Polish) has prepared for her just such an encounter. What she doesn't anticipate is that their culture clash will go far deeper than language. Jess is determined to find Fanja and get her story, a research scoop that may just save her academic career. Jess compares herself to her advisor, who made a career of interviewing his own mother over two decades, producing a landmark book about pre-war Romania. Jess dreams of finding her own unicorn, an ethnographic informant who could have two decades worth of memory to relate. Jess struggles with her own memory, blaming a combination of ADHD and iPhone dependence for comically poor short term recall. But she is certain Fanja will have what she needs. Fanja, on the other hand, has spent the last few decades battling ghosts, her late husband's and her vaudevillian sister's. She has plenty of memories, but they turn out to be far more than Jess bargained for.
LABA is a unique fellowship. What drew you to apply?
As a writer, my creative life is a lonely one. Even working on a play, the vast majority of my time is spent staring down my laptop and intermittently talking to myself. I've always been jealous of my musician friends who get to collaborate all the time. The idea of having a ready made community with whom I could share work, make art, and do Jewish learning, was a dream come true.
What is your favorite East Village spot?
If I'm feeling flush, Black Seed bagels. If I want to remind myself why I love New York, Anthology Film Archives.
What is the worst thing that ever made you laugh?
I think I might have laughed out loud at one of the serious parts when we saw Les Mis on a high school trip. My tolerance for the maudlin and sentimental has always been dangerously low.
---