Meet Fellow Jared Hoffman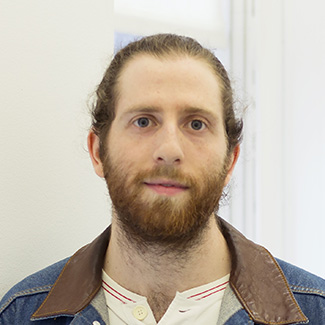 Jared Hoffman is a visual artist and technologist originally from California, now living in Brooklyn. He makes work in the space between: 2D and 3D, digital and analog. In the past year he has focused on making lenticular prints, installations and websites, but he aims to expand his practice with more socially conscious interventions. In 2015 he graduated from Cornell University with a degree in Information Science. He gravitated towards art as a pathway to personal and creative freedom. He ran a Kickstarter campaign to make "The Stoner's Coloring Book: Coloring for High-Minded Adults". He collaborated with ten artists, illustrated and self-published the book. The book satirizes the mindfulness fad that drove the Adult Coloring Book trend while taking advantage of its meteoric popularity. He moved to New York in June 2016. He worked as a sculptor's assistant and then as a lighting designer. About a year ago, he quit his day job to pursue art full-time.
LABA PROJECT
I propose to research expressions of shame, embarrassment and self-deprecating humor on social media and IRL. The research would drive the creation of visual art pieces with this research as the topic. I would like to approach one of these through coding – with the creation of a website or interactive installation. Another approach we be through lenticular prints; for example I might make kinetic pieces that show different expressions based on where the viewer stands. It could also be interesting to make collages comparing expressions generated algorithmically with facial expressions from photographs. I believe my project will change in response to conversations with the LABA group. I would like to apply a programmatic approach to studying emotion, faces and humor, but I only have the outlines of the actual project. I am open to working with collaborators but I do not have any specific person in mind at this time. I also think that this project could be enriched by recorded interviews and a video component. I would aim to finalize my project plan in the first three months of the LABA program and spend the remaining nine months building, testing and presenting the project.
LABA is a unique fellowship. What drew you to apply?
I wanted to engage more with my own Jewishness and also with a community of artists. This fellowship offers me the opportunity to meet new friends and join a community of people who want to make a difference. Jews recognize the paramount importance of service to our community and the world. And so this fellowship is a chance for me to work seriously on transitioning my art from merely aesthetics to something more profound and meaningful: something that might affect people's minds and opinions, and plant seeds for change.
What is your favorite East Village spot?
Nublu Jazz Bar
What is the worst thing that ever made you laugh?
A joke about the Orlando night club massacre… Eesh…
---