Everything You Have is Yours?


Hadar Ahuvia // Dance
"Everything you have is yours?" investigates the construction of Israeli identity through gestures appropriated from Palestinian and Yemeni culture. The performers imitate and translate instructional videos of Israeli folk dances by Israelis and American Christian Zionists, embodying distance and proximity to Israel, Israeliness, and enacting the feedback loop through which national ideology is disseminated and sustained. In their mirroring of these videos, they reveal the subtext of dances, making explicit the Otherness at the kernel of Israeli identity.
LABA Season and Theme: OTHER
Which Jewish text inspired your piece? Israeli folk songs, Song of Songs, Zohar
Creative Team:
Original text by Hadar Ahuvia, with contributions from Mor Mendel, and lily bo shapiro
Performed by Hadar Ahuvia, Mor Mendel, and lily bo shapiro
Projections by Gil Sperling
Dramaturgy lily bo shapiro
Dramaturgical support by Stacy Grossfield and Rowan Magee
Lighting Design Kryssy Wright
Sound Design Avi Amon
LABA Fellow Bio:
Hadar Ahuvia is a performer and choreographer who makes work grounded in physical research and political consciousness. Raised in the U.S.A. and Israel, she trained at the San Francisco Conservatory of Dance and received a BA from Sarah Lawrence College. Her work has been presented at Judson, Dixon Place, CPR, BkSD, Danspace DraftWork, Movement Research Fall Festival, AUNTS, Catch, Roulette, NYLA, the 14th St Y, and Eastport Art Center, and SPACE Gallery, Maine. Ahuvia has worked with Sara Rudner, Jill Sigman, Donna Uchizono, Molly Poerstel, Anna Sperber, Jon Kinzel, Stuart Shugg, Tatyana Tenenbaum, and Kathy Westwater, and currently performs with Reggie Wilson/ Fist and Heel Performance Group. Ahuvia was 2012 DTW/NYLA Fresh Tracks Artist, a 2015 Movement Research AIR, a LABA Fellow at the 14th St. Y, a 2016 Grace Paley Organizing Fellow at Jews for Racial and Economic Justice, the recipient of 2017-18 CUNY Dance Initiative Residency, and a 2018 Bessie nominee for Outstanding "Breakout" Choreographer.
Press:
"A spirited lecture-demonstration, "Everything" layers buoyant, grapevining, heel-toeing steps — from some of the more than 8,000 Israeli folk dances created since the 1930s — with instructional videos, archival images and commentary delivered, often in tandem with movement, by Ms. Ahuvia, Mor Mendel and Lily Bo Shapiro."
– Siobhan Burke, NYT
"… smart, witty, political and ultimately moving work filled with unexpected delights… transforms the ordinary into the extraordinary, arguing for the undeniable power of the body in motion and our human, irresistible pull to celebratory dance that might or might not have originated with our own people."
– ֵEva Yaa Asantewaa, Infinite BodyMust see, last chance: Hadar Ahuvia at 14th Street Y – Review by Eva Yaa Asantewaa, Infinite Body https://infinitebody.blogspot.com/2018/02/must-see-last-chance-hadar-ahuvia-at.html 
Her Roots Are Tangled in Folk Dance and Israel – Preview in the NYT by Siobhan Burke
https://www.nytimes.com/2018/02/06/arts/dance/hadar-ahuvia-everything-you-have-is-yours-israeli-folk-dance.html
The Dances Are for Us – Essay by Hadar Ahuvia on Infinite Body
https://infinitebody.blogspot.com/2018/01/hadar-ahuvia-dances-are-for-us.html
Cultural Appropriation and the Yemenite Step – Laba Journal Interview
https://labajournal.com/2018/01/cultural-appropriation-and-the-yeminite-step/
Production Images: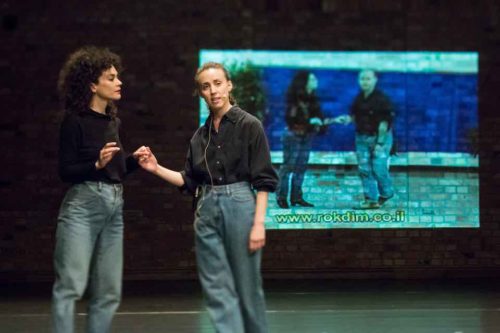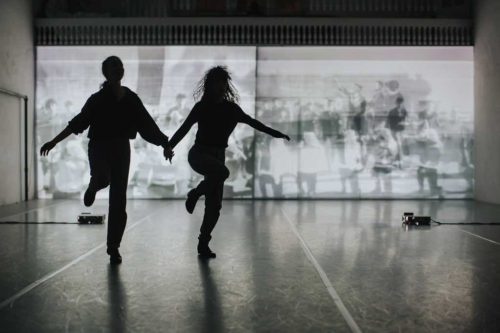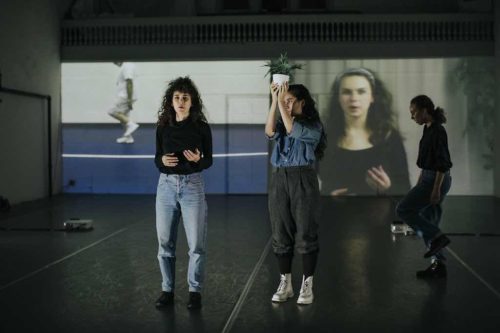 Video Links:
Excerpt – LABALive, 14th Street Y, NYC // March 2017

Full Production – 14th Street Y, NYC // February 2018
https://vimeo.com/277905767/84192009ab
Tour Schedule:
Hadar Ahuvia will participate in a conversation about Israeli Folk Dance at the Jews and Jewishness in the Dance World Conference https://jewishstudies.clas.asu.edu/jewishdance-about
---