In Search of My Mother's Love Life
THE MAR VISTA – In Search of My Mother's Love Life

Created by Yehuda Hyman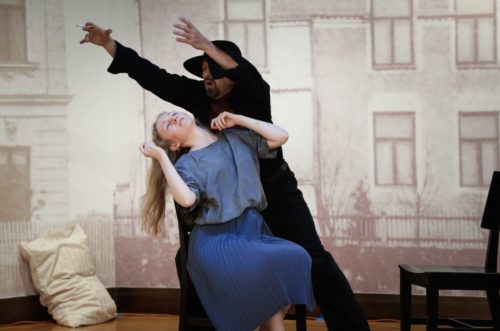 The Mar Vista – which means "a view of the sea" – is the name of what was at one time a working-class neighborhood in Los Angeles. The award-winning Brooklyn-based playwright, Yehuda Hyman, grew up there, the son of emigre parents: his mother (Sarah), a dancer and free spirit who grew up in Istanbul, and his father, Charlie, a restrained Polish tailor with a haunted past.
The play is a fusion of theater, dance, lyrical movement and music, performed by Mr. Hyman and his Mystical Feet Company. It tells the story of Sarah's life in Istanbul (including her passionate and secret romantic past), her journey to the United States, how she met and married Yehuda's father and how that unusual relationship shaped Yehuda's life as a gay Jewish artist.
LABA SEASON THEME
Mother
Which Jewish text(s) inspired the piece?
Story of Sarah
Story of Hannah
Story of Lilith
CREATIVE TEAM
Writer/Director/Choreographer: Yehuda Hyman
Sound Design: Ezra Bloom
Set/Lighting: Aaron Porter
Costumes: Amy Page
Performers: Yehuda Hyman, Amanda Schussel, Ron Kagan, Ryan Daniel Pater, Jacob Perkins, Ezra Bloom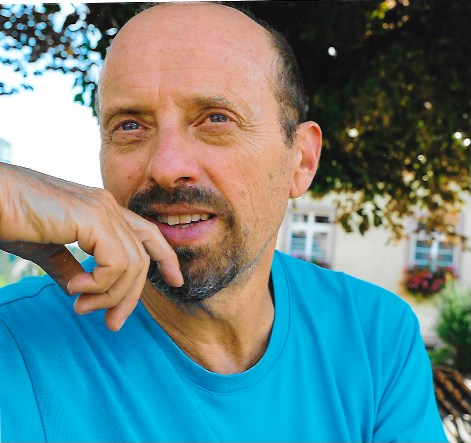 CREATOR BIO
YEHUDA HYMAN is a playwright, choreographer, actor and Artistic Director of Mystical Feet Company, a theater ensemble creating new work. His plays include The Mar Vista, The Mad Dancers, Center of the Star, Swan Lake Calhoun (published by Samuel French), I Ask You, Ladies and Gentleman (from Leon Surmelian's memoir), David in Shadow and Light (co-writer Daniel Hoffman), The Mad 7 and Max, Rapunzel & the Night. His work has been produced at McCarter Theatre, Mark Taper Forum, San Diego Repertory Theater, Theater J, Actors Theatre of Louisville (ATL) and The Marsh. Honors include the Kennedy Center Fund for New American Plays Award, the NEA/TCG Playwright-in Residence Grant (with Cornerstone Theater of Los Angeles), Jerome Fellowship, Heideman Award and grants from Center for Jewish Culture. His essays and poems have been published in The Forward, San Francisco Bay Guardian, Northern California Jewish Bulletin, and in Seeing Jewish and Israeli Dance (Edited by Judith Brin Ingber). He has translated the works of German poet, Eva-Maria Berg. As an actor, Mr. Hyman has recently performed in NYC with theater companies: Target Margin Theater, The Civilians and Rady&Bloom. He was an Artist Fellow at the LABA House of Study/14th St Y. He received his M.F.A. in Dance from Sarah Lawrence College (2014) and has taught there as well as guest teaching at Indiana State University, USC, UCLA, and in NYC public schools with Dancing Classrooms. He recently choreographed Paula Vogel's play, Indecent at the Guthrie Theater. His essay, "Three Hasidic Dances" will be published (October, 2019) in Dance in America, A Reader's Anthology (Edited by Mindy Aloff, Foreword by Robert Gottlieb), Library of America/Penguin Random House and his play, The Mar Vista (In search of my mother's love life), will premiere at the Pershing Square Signature Center in March, 2019. Yehuda Hyman lives in Brooklyn.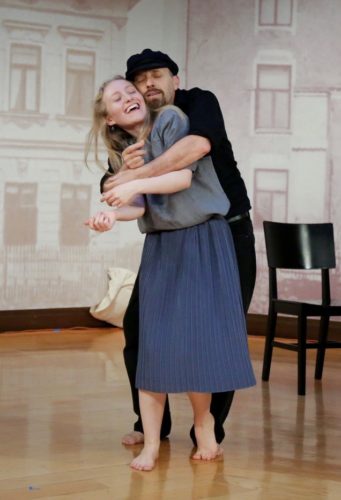 The Mar Vista– Preview, on Vimeo. 
PRESS QUOTES
Elizabeth Zimmer in The Village Voice wrote: "Hyman brings to life a forbidden wartime romance, a grand sartorial gesture that cements a probably misguided marriage, Hyman's quest to understand his mother's lost love, and his own efforts to find himself as a gay Jewish child in what often felt like hostile territory. Laced with music and dancing, this family saga transports you across continents and a century to a deep, lyrical understanding of the making of an artist."
Victoria Ordin, a theater reviewer for Broadway World wrote about the December 2016 workshop production: "The Mar Vista is an ambitious and highly theatrical autobiographical play with music and dance which ranges over four countries on two continents in 90 years. Nothing prepared me for its power and beauty. It's storytelling and Off-Off Broadway at its finest."
MORE PRESS
http://mysticalfeetcompany.org/news/2016/11/17/the-mar-vista-named-best-of-nyc-by-the-village-voice
https://www.broadwayworld.com/off-off-broadway/article/BWW-Review-Yehuda-Hyman-and-The-Mystical-Feet-Company-Explore-Grief-in-The-Mar-Vista-An-Ambitious-Jewish-Historical-Drama-20161215
TOUR SCHEDULE
THE MAR VISTA will be performed March 5-24th, 2019 at the Pershing Square Signature Center in Manhattan.
Touring is possible after April, 2019
There is a private video of a workshop production of THE MAR VISTA available by request.
---