"But I do own eight cemetery plots."
"I've never owned real estate. I've always rented. I come from renting people. My father still lives in the rent-controlled apartment I grew up in. But I do own eight cemetery plots."
So were Jeanne Heifetz's introductory words at our LABA retreat this past September. Heifetz is working on a series of graphite drawings of cemetery maps in keeping with the LABA-themed year exploring issues Life + Death, a fitting project for this visual artist who is also a curator, writer, and editor.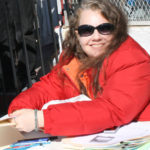 Heifetz (B.A., Harvard, M.A., NYU) spent the early part of her career in the literary world at such august publications as Esquire and American Heritage. She is also the author of two books–one on organic food (HarperCollins) and one on the origin of color names (Henry Holt). A self-described "maker of objects," Jeanne had an artistic side from an early age; she learned to weave at 14 and after that always had a loom nearby, except as a college freshman, a mistake she corrected as a sophomore. She exhibited at such high-end venues as the Philadelphia Museum of Art Craft Show and the Smithsonian Craft Show. While not turning her back on the editorial side of things (among other clients, she edits for Never the Right Time, a nonprofit dealing with end-of-life planning), most of her energies are now devoted to art: "I had the feeling that I could work on a book for a couple of years and people would enjoy it for a couple of days or I could make something over the course of a few days that people could enjoy for years."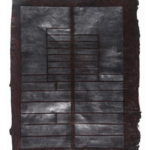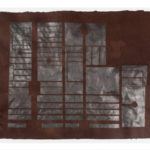 What Jeanne is making these days are abstract depictions of cemetery maps with materials organic to the earth and body (she uses graphite, which is made of carbon, and handmade paper tinted with iron oxide). Her inspirations were at least threefold. One was the inheritance from her maternal grandfather of eight cemetery plots at Maimonides-Elmont Cemetery (in Elmont, NY), only one of which is filled. (Jeanne explains that due to state regulations, only cemeteries can buy back empty plots, although at one time owners used coded ads in the back of the Forward –"beautiful river views"–to unload them illegally and for a hefty profit.)
The second was a lifelong obsession with mortality. Jeanne says she had "death panics" starting at age eight that recur cyclically. They are not tied to any childhood trauma; rather, a matter of feeling "overwhelmed by the idea of death and the realization that comes to us all that one day, we will no longer be conscious."  She grew up in a Jewish but secular household (her mother joined the Unitarian Church toward the end of her life and her father—still living—was a Red Diaper baby). She didn't start attending Jewish services until college, but also went to morning Mass at the Catholic St. Paul's Church in Cambridge, famous for its boys' choir. "I went there hoping to be able to get over my death panics by believing in an afterlife, but sadly, it didn't happen." She also walked frequently at the nearby Mt. Auburn Cemetery, designed by Alexandre Theodore Brongniart (of Brooklyn's Green-Wood Cemetery fame), to resemble a naturalistic park-like landscape in the English manner.
The third catalyst was a 2015 retrospective at the Guggenheim Museum of Colombian artist Doris Salcedo, whose sculptures and installations, based on testimonies solicited from victims of violent oppression, transmuted intimate domestic objects into repositories of memory and trauma. Heifetz resonated with these "very beautiful, but non-didactic works about very scary subjects,'' and gave herself the assignment "to see if I could make narrative work, and to see if I could make work about something that deeply frightened me." That, and a longstanding interest in geometry, directed her to the map of the cemetery plots she'd inherited and then to an online search for other cemetery maps, which proved to have a "wild variety of forms I found fascinating."
Not all cemetery plots are on grids, for example, and not all are planned. The post-Enlightenment period saw orderly layouts with family plots or blocks of plots bought up by a burial society or synagogue. Older cemeteries were not designed—graves were dug at the next available spot, willy-nilly. Jewish cemeteries' odd shapes were often determined by their not-very-convenient locations. ("You're not going to give the Jews good land to bury their dead.") The older chaotic-seeming cemeteries are visually arresting in a different way from the post-Enlightenment order, and represent (at least to Heifetz) a pre-Enlightenment Jewish vision of an afterlife as a busy and disordered place.
The challenge of finding these cemetery maps is a natural for a seasoned researcher like Jeanne Heifetz, who has spent countless hours in libraries like the one at YIVO at the Center for Jewish History in New York (where one of the archivists refers to her as "the grave robber").  YIVO has floors of documentation from Jewish burial societies who not only arranged for plots but also helped the sick and the poor. Other avenues for research include online genealogical sites; the Jewish Collection at the New York Public Library; the American Jewish Archives in Ohio; and Jono David, a photographer who goes around the world shooting Jewish sites, including, happily for Jeanne, a few cemeteries with maps posted at their entrances. His photography also made Jeanne aware of the different physical ways Jews are buried, sometimes relating to local culture and sometimes to local climate.
Since 2016, Heifetz has been working on a series of drawings called "Pre-Occupied," which connotes not only her preoccupation with mortality, but also is a play on burial society maps that mark the graves of unknown inhabitants simply as "Occupied."  For this year's LABA project, Jeanne plans to make an 'exploded' map of a cemetery in Ridgewood, Queens, where several of her great-grandparents — on both sides of her family — are buried, and suspend the sections above the floor for people to walk through, a kind of moving meditation on Life + Death.
You can see an exhibition of Jeanne Heifetz's burnished graphite drawing series, "A Brief Encampment," in the lobby gallery of the 14 Street Y from October 27th through November 26th. A reception with the artist as part of the Reimagine End of Life Festival will be held at 7 p.m. on Thursday, November 1st. Please join us.
Blog by Amy Handelsman
---
---
---