birds sing a pretty song
Created by Rebecca Margolick and Maxx Berkowit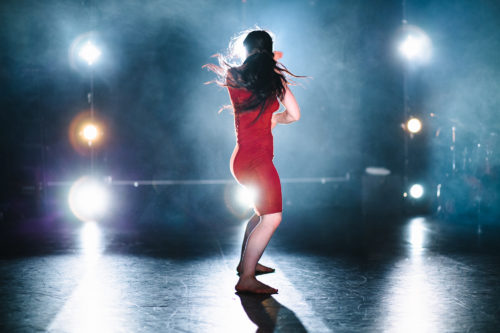 'birds sing a pretty song.' is a collaborative effort between choreographer Rebecca Margolick and interactive artist and composer Maxx Berkowitz.
'birds sing a pretty song' is a performance piece integrating dance, live music and interactive media. The piece revolves around two dancers, suspended in an environment where our hyper social nature reaches a point in which the lines of virtual and reality are obscured. The three live musicians act as observers, building lush and perpetual soundscapes that influence the dancers' movement. Through the piece they encounter an attempt at a relationship, fleeting glimpses of memory, and a fight for connection. Tied in with sound and video reactive visuals, the audience is engulfed in a world corrupted by narcissism, surveillance and confinement.
LABA SEASON THEME
Beauty
Which Jewish text(s) inspired the piece?
birds sing a pretty song was inspired by a text from the Talmud about the martyr Rabbi Yishmael Ben Elisha, and the disturbing lengths to which the Roman emperor's daughter went through to posses the Rabbi's beauty. Through many discussions in the group and between us, we were interested in drawing parallels between this extreme act of narcissism and similar lengths to which people go to on social media in today's society. These discussions led us to think about our communication in online worlds, and how digital relationships force us to reconsider what is real and what is not.
CREATIVE TEAM
Co Directors: Maxx Berkowitz & Rebecca Margolick
Choreography: Rebecca Margolick
Composers: Maxx Berkowitz & Jake Klar
Dancers: Chuck Wilt & Rebecca Margolick
Percussion: Bruno Esrubilsky
Interactive media: Dmitry Prushak & Maxx Berkowitz
Cinematography: Derrick Belcham
Text: Jake Klar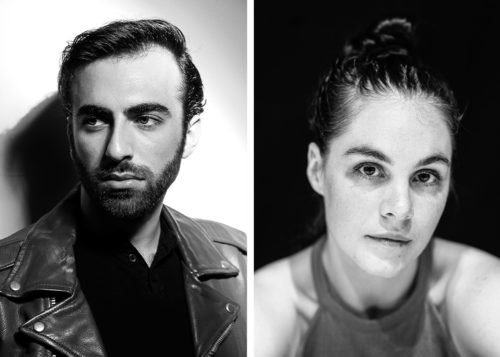 CREATORS
Rebecca Margolick is a dancer and choreographer based in Brooklyn. She has worked with Sidra Bell, UNA Projects, Patricia Norowol, Jerome Bel, Maya Orchin, Chris Devita, Derrick Belcham, Shay Kuebler, Barak Marshall and Aszure Barton among others. Rebecca was a LABA Fellow at the 14th St Y where she created the multi-disciplinary work birds sing a pretty song which has been presented in NYC, Vancouver, Bulgaria, Israel, San Diego and Montreal. Rebecca was in residence at Derida Dance in Sofia, Bulgaria, where she created Ministry. which has been presented in Bulgaria, Poland and Wells, B.C. This year she was commissioned to create pieces on DancePORT Derida and Michiyaya Dance. Rebecca has taught at UArts, Tisch, Ailey, Rutgers, Arts Umbrella, Derida Dance, and ArtsWells, among others. Rebecca graduated from NYU Tisch and trained at Arts Umbrella in Vancouver, Canada.
Brooklyn based freelance creative director and musician Maxx Berkowitz designs for the future. Through innovative design and emerging technologies he draws upon a cross-disciplinary skill-set to deliver inspiring creations which have substance and elegance.
Maxx crafts digital experiences and products for global brands and start-ups, while creating internationally touring music and dance performances.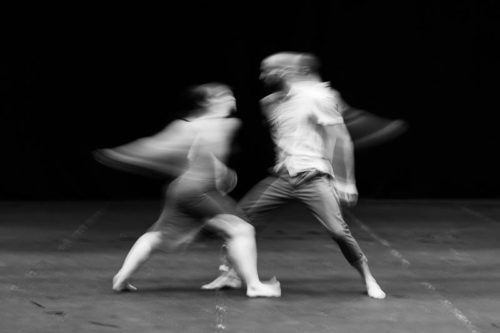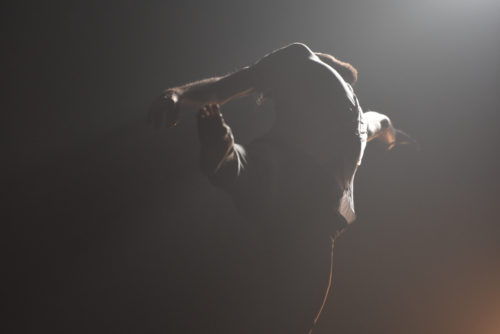 birds sing a pretty song. trailer
PRESS QUOTES
"Margolick's powerful choreography combined with the musical composition of Maxx Berkowitz and Jake Klar, made for a thought-provoking, satisfying evening of performance."  – Centre Stage by Tessa Perkins
MORE PRESS
https://www.straight.com/arts/907741/ancient-texts-inspire-dances-digital-world-birds-sing-pretty-song
http://www.jewishindependent.ca/our-sense-of-reality-and-self/
https://boyscoutmag.com/2018/04/birds-sing-a-pretty-song-rebecca-margolick/
https://www.youtube.com/watch?v=2bYyg3vUQVQ
https://www.bgonair.bg/okolosvetsko/2018-04-20/tarsite-tantsov-spektakal-zashto-ne-ptitsite-peyat-krasiva-pesen
TOUR SCHEDULE
Upcoming Performances:
December 9th, 2018: Seattle, USA, Presented by the Seattle JCC
Past Tours include:
(International Tour supported by Canada Council for the Arts and American Dance Abroad)
Montreal, Canada presented by Festival Quartiers Danses at Place Des Arts : September 13th 2018 8pm
Sofia, Bulgaria (presented by Azaryan Theatre NDK and Derida Dance) : April 21 2018
Jerusalem, Israel (presented by MASH) : April 23 2018
(international tour was supported by Canada Council for the Arts and American Dance Abroad)
San Diego, USA (presented by San Diego JCC): May 17 2018
Vancouver, Canada (presented by Chutzpah!Festival) : May 13-14 2017
New York, NY (presented by LABA and 14th St Y Theater): May 4-7 2017
---