Launching event of LABA Barcelona at Casa Adret, June 10th, 2023
LABAbel – Art & Study event 
June 10th, 2023, 19–22 hrs
Casa Adret – Calle Salomo ben Adret 6, Barcelona. We are pleased to invite you to the launching event of Laba Barcelona, at Casa Adret
LABA brings together artists from all backgrounds and disciplines, to study classical Jewish texts, to experiment and to explore the futures of Jewish art and culture in Barcelona.
LABA BCN is part of an International network of LABAs : NY, Buenos Aires, Berlin, and San Francisco Bay. (First LABA was launched in 2007 in New York's East Village).
"Migdal Babel" is an art event inspired by the biblical Babel Tower that transforms the act of creation from physical materials to the realm of text, sound, collaboration and study. The role of art in a place with multiple languages can be particularly significant, as it has the potential to transcend linguistic barriers and foster connections between people.
The activity invites the audience to engage with one another and the space through the medium of language, wandering through the different spaces of Casa Adret, creating a collective experience. The space is divided into different stations, each representing a level of the imaginary tower.
---
LABA Barcelona LABAbel – Art & Study 10 de junio de 2023, 19-22 hrs Casa Adret – Calle Salomo ben Adret 6, Barcelona.
Nos complace invitarle al lanzamiento de LABA Barcelona, que tendrá en Casa Adret el próximo 10 de junio. LABA Internacional es una red mundial de estudios judíos con sede en NY, Buenos Aires, Berlín y Bahía de San Francisco. Recién implantada en nuestra ciudad, LABA BCN reunirá artistas de diferentes procedencias y disciplinas para estudiar juntos textos judíos clásicos, con el fin de explorar el futuro del arte y la cultura judía en Barcelona.
"Migdal Babel" es un proyecto artístico inspirado en la mítica torre bíblica, y ha sido pensado como actividad performativa cuyo objetivo es guiar la transformación del acto creativo desde los materiales físicos al ámbito del texto, el sonido, la colaboración y el estudio. Como disciplina en la que confluyen multitud de técnicas y lenguas, el arte puede ser un vehículo idóneo para nuestro propósito, ya que tiene el poder de trascender las barreras lingüísticas y fomentar los vínculos entre personas. La actividad invita a los participantes a relacionarse entre sí y con el espacio de la Casa Adret a través del lenguaje y el recorrido por los distintos espacios y niveles del inmueble. Se crea así una experiencia colectiva y arquitectónica que remite al complejo proceso de elevación de la mítica torre de Babel.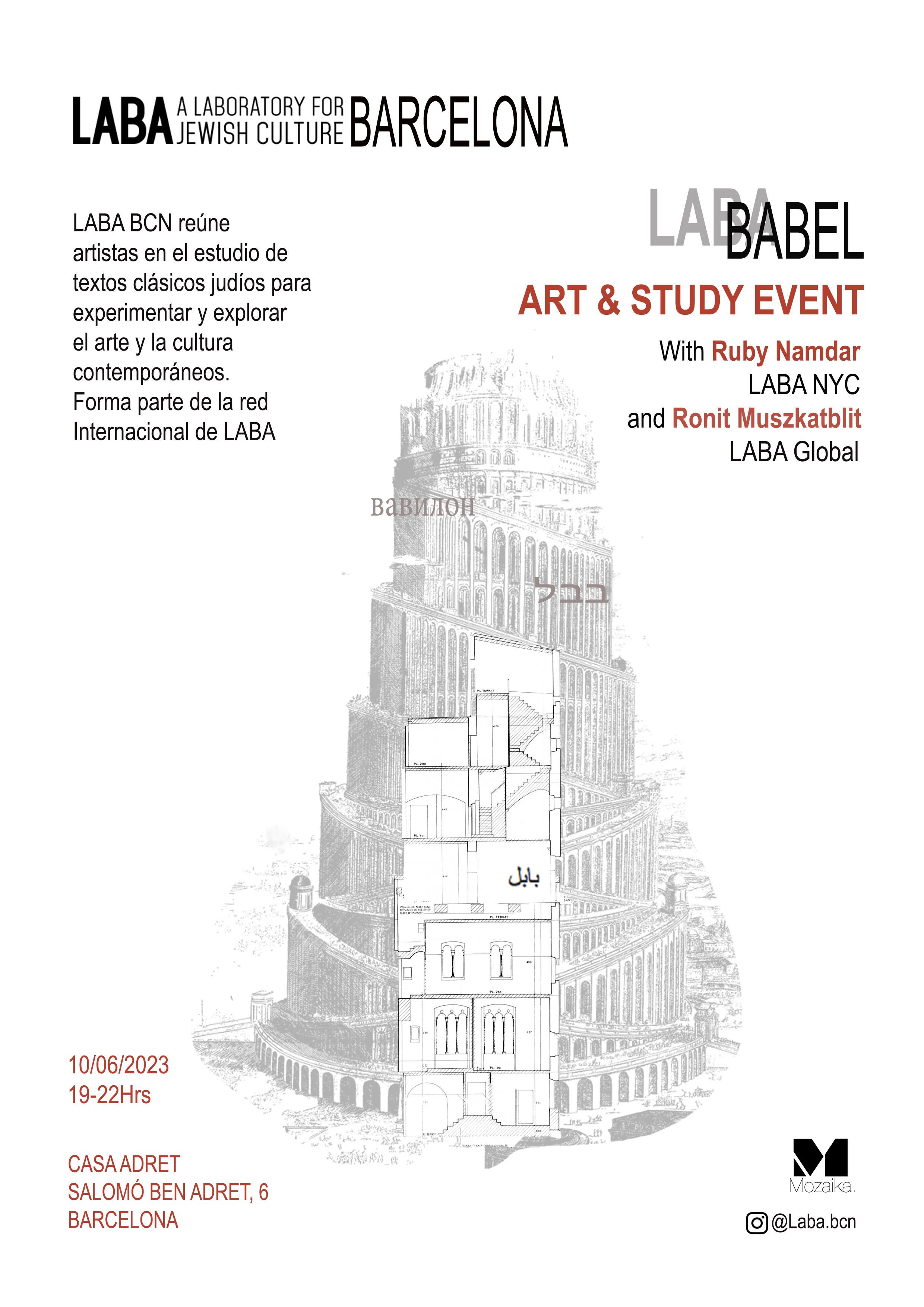 ---
---
---