Saving Lives with Haifa's New Underground ER
LABA alum and journal Contributing Editor Amy Handelsman on her recent trip to Haifa's Bnai Zion Medical Center.
Tuesday, April 2, 2019, Haifa.
"Only the mothers knew what to do," said Dr. Amnon Rofe, CEO of Bnai Zion Medical Center (BZMC) in Israel's northern city of Haifa.  "They grabbed their children and babies and ran."
We stood overlooking a giant crater, the result of a missile attack during the 2006 Lebanon War. Next to the gaping hole giant cranes were busy digging, building an underground emergency room in response to the missile strike. The ER will include 63 beds, with room for an additional 200 if patients need to be moved from other floors.
Dr. Rofe was describing the scene on the last day of that war. After a 34-day-siege, a cease-fire was about to start; he decided to go home after his normal work day ended. But within a half-hour, Rofe received a call that BZMC was under attack. He drove back to the hospital to the wail of sirens and the streets full of smoke. The hospital windows were shattered.
Miraculously, there were no casualties, but then and there Rofe promised himself he would build an underground ER to protect patients and staff should this ever happen again. Hezbollah has 120-130,000 rockets in Lebanon and Syria and can fire up to 1000 rockets a day.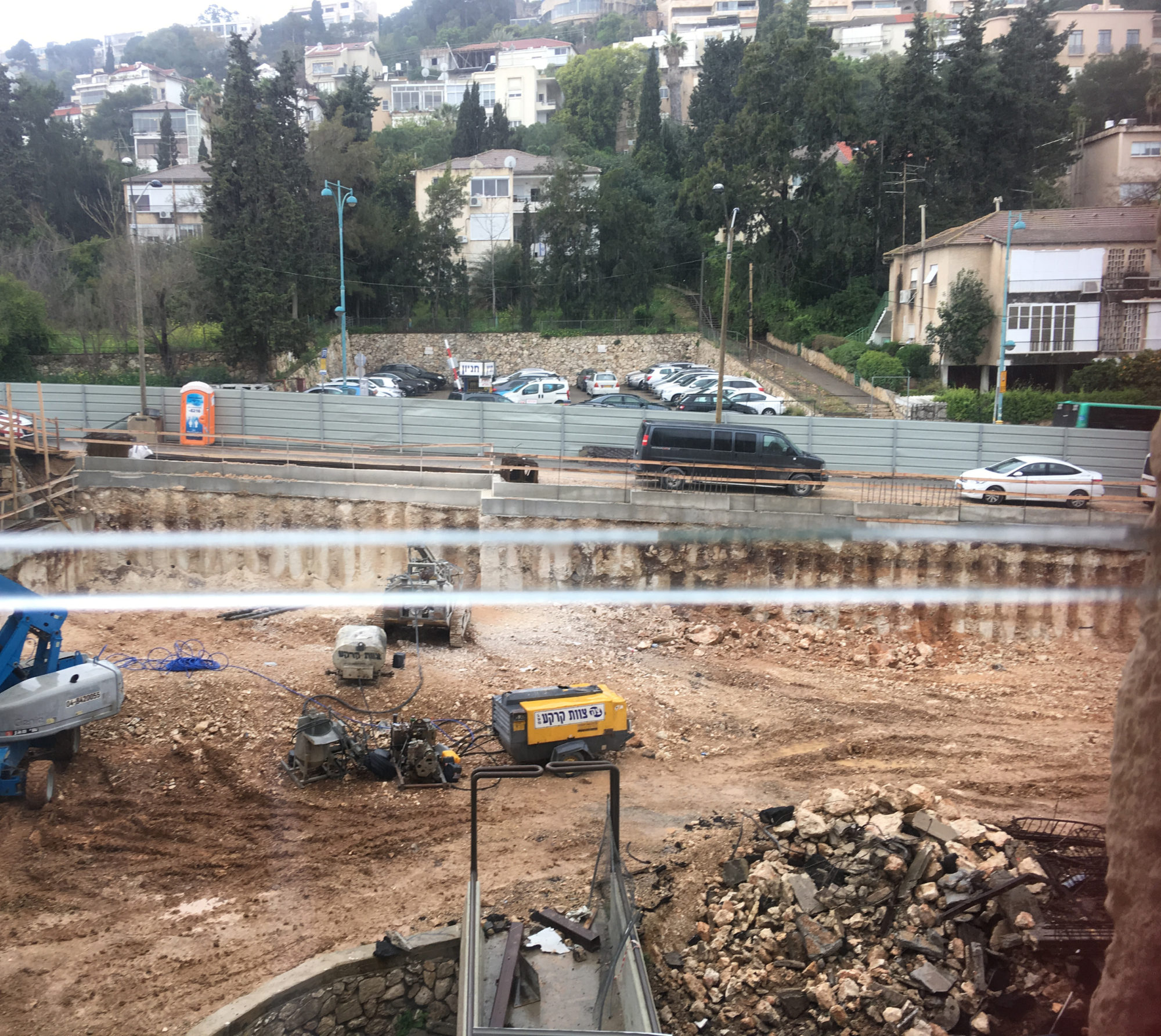 Bnai Zion Medical Center was established in 1922, the first Jewish hospital in Haifa serving the armed forces.  Yitzhak Rabin was treated here for his leg, and Moshe Dayan's second eye was saved here. 
The Center moved from downtown to its present elevated location via funds from the Rothschild family.  In 1988, the West Wing was built with a generous donation from the Bnai Zion Foundation and the hospital was renamed. Now, Rofe is raising 100 million shekels (roughly $22-25 million) to build the ER. (All but $2m has been raised.)
Haifa is a city where Jews and Arabs live and work side-by-side. Fully 20% of its citizens are non-Jews. Of those, 40% are Arab-Muslims, 40% are Christian, and 20%, other, mostly B'Hai. The hospital, of course, treats everybody, regardless of politics, race or creed. BZMC serves 75,000 patients a year, with 65 outpatient clinics treating another 100,000. They perform 14,000 operations a year and deliver 5,000 babies.
Dr. Rofe is both the CEO of Bnai Zion Medical Center and a trained Ob-Gyn.  (All the Chief Executive Officers in Israeli hospitals have to be physicians and study public health administration.) He has been with BZMC for 19 years and is retiring in June.  Rofe was born in this hospital, although his father's family is from Aleppo, Syria, and has no thought of leaving the area, despite the inherent dangers. He said, "This is my homeland; I will stay here forever."
We met the hospital's most vulnerable patients, the infants in the neo-natal wing. Dr. David Bader led us through the NICU, which can take care of up to 20 babies at a time. He explained that the babies can stay as long as they like—there is no budget problem here, just a shortage of nurses; babies have been turned away and there is a waiting list to get in.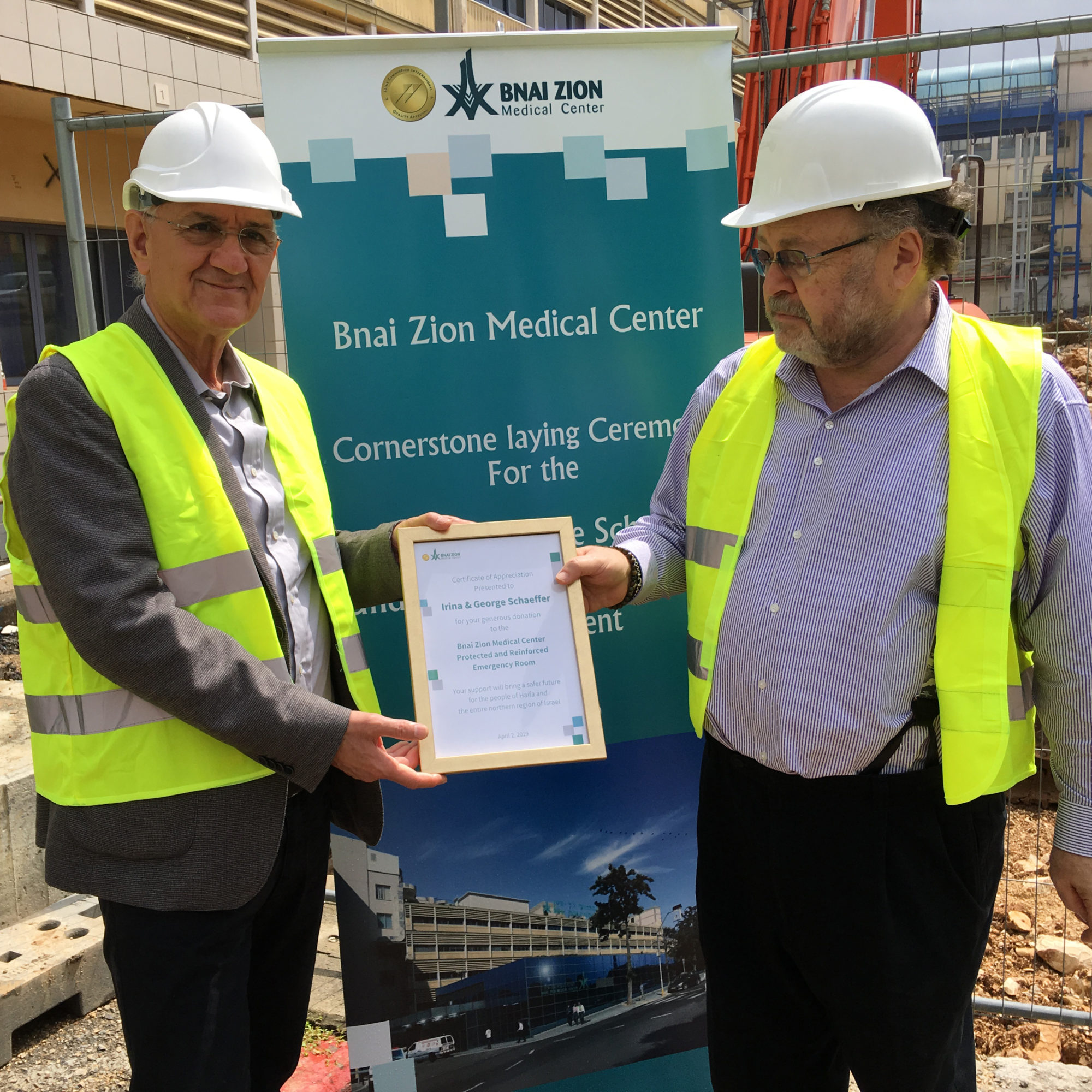 Like the main hospital, the neo-natal wing serves every religious group and culture, each having different notions of life. While parents often come daily to visit, he saves ones the trip who live further away—say in Shefa'Amr, a Christian-Arab settlement—by taking videos of their child, complete with narration: "Hello! Today I am three-and-a-half pounds!"
The hospital follows these premies up to 20 years, sometimes seeing them get married. One came back to work as a neo-natal doctor himself.
"We don't give up on babies," concluded Bader.
Outside the NICU, we were handed hardhats to tour the construction site for the underground ER, due to open in the Summer of 2021. Despite the relative calm here for the past few years, there is an ever-present security risk.
As Keren Kabiry, Executive Director of the Friends of BZMC, said, "Israel is in an insecure situation with what's happening in the south. We know that Hezbollah has been quiet, but they are a terrorist group, and may feel they can copy what happened [recently] with Hamas in Gaza. It can change in a minute."
---
---
---