Filling the Spaces of the Dead
By Amy Handelsman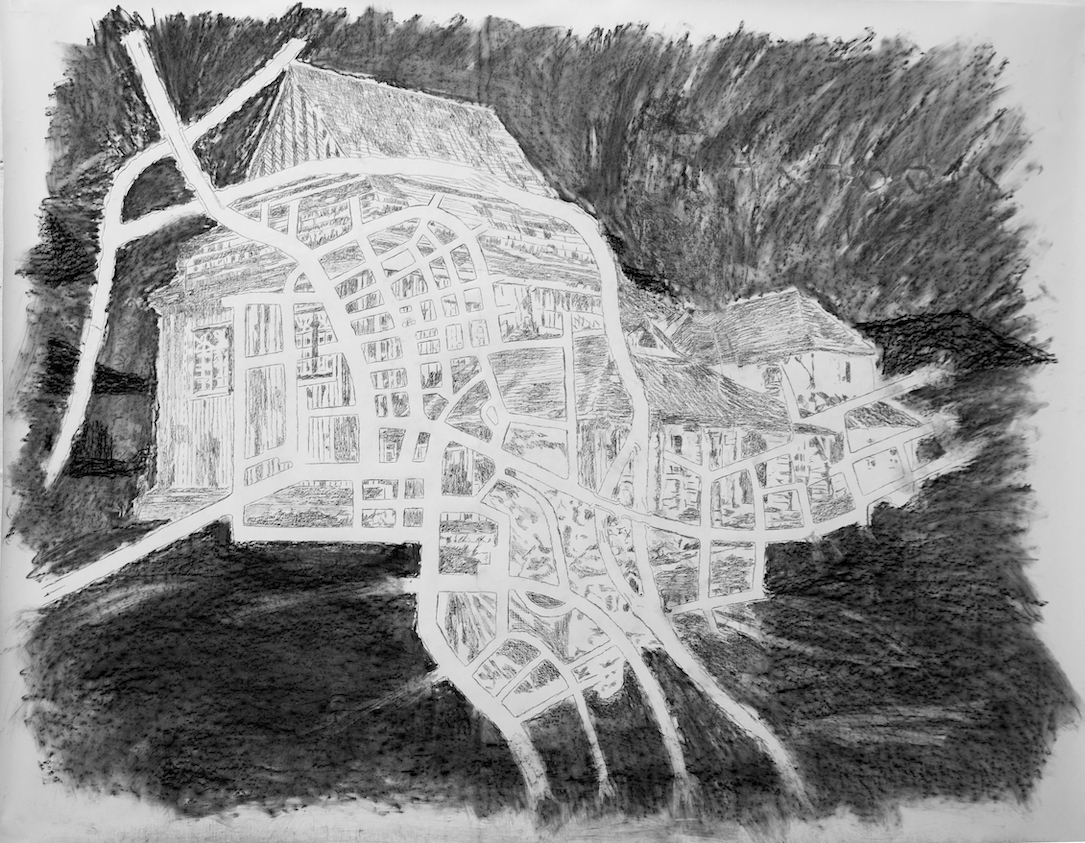 Who honors the spaces left by the dead? This question is the guiding principle and raison d'être for Maya Ciarocchi, who brings honor to the lost spaces and the dead of Ożarów, Poland in her stirring multi-media art installation Site: Yizkor, recently shown in the lobby of the 14 Street Y as part of her LABA Fellowship.
Ożarów (pronounced oh-ZHA-roof) is a small town in southeast Poland, a former shtetl burned to the ground by the Imperial Russian Army in 1915 and the home of Ciarrocchi's maternal grandmother. A concrete plant is now its main source of income, and the remnants of the synagogue resemble a scrap-metal heap. Attempts have been made to restore the Jewish cemetery, but most of what remains of Ożarów can be found in Yizkor books, archival material written by Holocaust survivors—records of births, marriages and deaths, religious schools, businesses and other community structures, some told matter-of-factly, some in purple prose.
In Site: Yizkor, Maya Ciarrocchi "explores the physical and emotional documentation of loss" through a series of graphite and charcoal drawings taken from maps and photographs of Ożarów. In these drawings, Ciarrocchi lays street grids and town squares over synagogues and peoples them with figures, as if to animate the shtetl once again.
This palimpsestic technique creates a sense of movement in Ciarrocchi's drawings, which perhaps stems from her former life as a dancer. She studied classical ballet at the American Ballet Theater School and the School of the American Ballet and was a scholarship student at Merce Cunningham Dance Company. Indeed, Ciarrocchi describes her drawings as kinesthetic maps, movement scores that seek to discover what can be found in these empty spaces—spatial subtexts of memory and meaning.
The genesis of Site: Yizkor was the death of both Ciarrocchi's neighbor, who had been a 1930's radio star, and the death of Ciarrocchi's mother-in-law. These losses coincided with the artist moving out of the building she grew up in and had lived in for nearly thirty years.

Site: Yizkor evolved into a performance piece narrated by Ciarrocchi, including video projections of extant texts from Yizkor books, poetry, maps and drawings. A second component is interactive: Ciarrocchi asks the audience to answer prompts, some of which she includes in future iterations of the work. One prompt: Describe a space that belonged to someone close to you who died. Another: Describe a place important to you that no longer exists.
[For sample responses, and to see more of Ciarrocchi's drawings, click here.]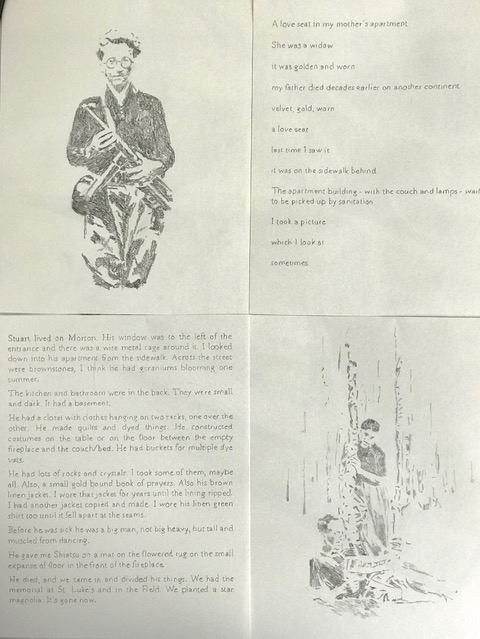 Ciarrocchi estimates she has forty such writings. They are Yizkor-books-in-the-making, living, dynamic objects that hold future space for memory and mourning.
As a multi-disciplinary artist, video figures prominently in Ciarrocchi's work. (And the work she does with others: she collaborates frequently with director David Cromer, for example, and was the projection designer for the Tony-award-winning Broadway show, The Band's Visit.) She hopes that the projections work like live cinema, that the juxtaposition between text and visuals, the connections between bodies and space, pictures and sound combine in a non-linear way to create a narrative in each viewer's brain.
Ciarrocchi will be adding an aural component to Site: Yizkor, collaborating with California-based composer Andrew Conklin, whom she met at the Millay Colony last summer, to create a soundscape for the project. Ciarrocchi says they plan to create an evening-length performance for singers in an immersive projected and sonic environment, with audiences again invited to create their own Yizkor pages "as a way to commemorate and mourn lost people and places."
In April, Ciarrocchi travels to Poland at the invitation of the Sichów Educational Foundation, an organization convening a new center and guest house at the restored manor of exiled Polish aristocracy not far from Krakow. The retreat brings together Israeli, American and Polish artists.
While in Sichów, Ciarrocchi plans to gather video and audio recordings, and to source first-hand what remains in former Polish shtetl towns like Ożarów. She also hopes to be inspired by the mix of artists as often happens at artistic retreats.
The act of remembering the dead—the definition of yizkor—is a primary tenet of Jewish life. In Site: Yizkor, Ciarrocchi bears witness to those who cannot speak, exemplifying what is often said to comfort the mourners: May their memory be for a blessing.
---
---
---