Reconsidering Julie Herzl, Theodor's Unhappy Wife
By Alex Weiser
When Julie Naschauer, the wife of Theodor Herzl—father of modern political Zionism—died in 1907 at the young age of 39, she was mourned as a beloved figure of the Zionist movement. It was only four years after Theodor died at the age of 44. The headline of her obituary in the Yiddish newspaper, Yidishes tageblat called it a "Great tragedy among Zionists." The article explains, "They lived a short but happy life. She often assisted her husband in his work…. She also had a great interest in Zionism, even though she never attended the Zionist congresses."
While the Zionist movement and the general Jewish public may have thought of Julie as a supportive wife and model Zionist, the letters between Julie and Theodor tell a very different story. In June of 1891, Theodor wrote to Julie, "We're not suitable for each other! What interests and fulfills me leaves you cold and estranged." In his book The Labyrinth of Exile, historian Ernst Pawel explains, "Intellectually, they had nothing in common. Julie shared none of her husband's interest to begin with and later came actively to resent his total involvement with Zionism."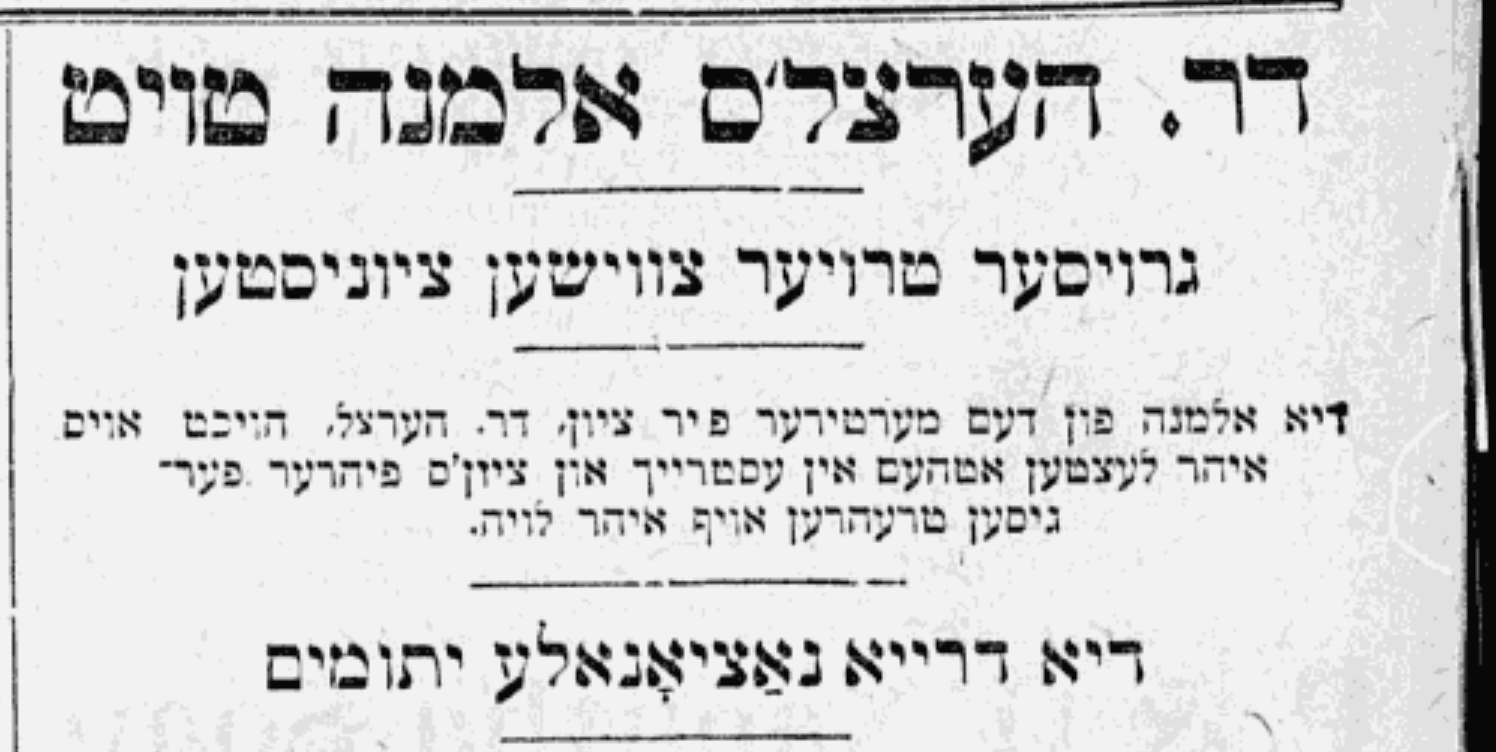 The counter-narrative of Julie's fairytale involvement in the Zionist movement seems to have been created after Theodor's death. Having spent much of their financial resources on his Zionist activities, when Theodor died Julie and their three children were left in a precarious financial situation. (Theodor also accused Julie, who was accustomed to and desirous of a lavish Viennese lifestyle, of chronic overspending.) The Zionist movement stepped in and created a fund to take care of the family. After Theodor's death a statement attributed to Julie was published in the Jewish Chronicle, which Pawel says was "obviously written for, rather than by her":
"…[Theodor's] work was, however, and will ever remain sacred to me. I will serve the Zionist movement with all my strength and will do everything possible to initiate my children into the work of their father, and to make them worthy champions in the movement for the deliverance of our people for which he strove…"
In truth, Pawel notes, Julie "did not have the slightest interest in her husband's work" and her "embarrassingly outspoken hostility to the movement was widely known."
Even aside from politics, Julie and Theodor's relationship was quarrelsome. Julie was "quick-tempered, unstable, given to tantrums, a spoiled brat who could not tolerate frustration and would instantly turn any argument into a dramatic life-and-death confrontation, threatening to kill either her unborn child or herself."
And yet, the historical record resists such a simple understanding. Shortly before Theodor died, he wrote his mother, on June 25, 1904:
"Julie has greatly proven herself again in recent weeks. My first days, particularly the nights, were bad. She has untiringly and devotedly nursed me, as she nursed her children when they were ill. Her effort is beyond all praise and, together with my wholehearted thanks, she deserves yours as well."
In probing deeper into Julie's character and motivations Pawel explains, "She probably deserves far more credit than she ever got for her candor, courage, and adaptability, and for a certain native intelligence which neither her background nor her marital life ever gave her a chance to develop."
The opera I am writing with Librettist Ben Kaplan, The State of the Jews, features this take on Julie. We depict her as critical and complex, in the most vivid and sympathetic rendering we can muster. Her's is a hidden and largely forgotten voice that we feel deserves to be heard alongside Theodor's.
Excerpts from Theodor Herzl's letters translated by Sarah Glover.
Check out an excerpt from State of the Jews:
Jennifer Goode Cooper sings the role of Julie in an American Opera Projects workshop performance. In the aria, Julie laments the disparities between her own and Theodor's visions for their shared life. Theodor is played by Mario Diaz-Moresco, piano is played by Kelly Horsted, stage direction by Mary Birnbaum.
---
---
---