LABAlive IS BACK!
On Thursday, May 31st, LABALive Two will present an evening of subversive art and teachings on this year's theme, WAR & PEACE. The evening will feature LABA teacher Liel Leibovitz and works-in-progress by LABA Fellows Tal Gur, Jacob Siegel and Amy Handelsman.
For those looking for a taste right now, here is 2016-2017 LABA alumna Laura Beatrix Newmark's take on her LABAlive experience.
---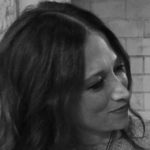 My LABAlive was a thrilling and terrifying experience. You see, I basically hadn't performed in front of an audience since elementary school. I have preferred to stay behind the scenes while working in the arts. I've joked that making cameos would be fun but being the center of something would feel terribly awkward and scary.
Also I hadn't publicly shared the behind-the-scenes of how and why I became a mother to two little boys, so my LABA piece was exposing a secret that I had protected dearly.
They say it takes a village, and my shaman in the village was Ronit Muszkaltbit, the Artistic Director and Head of LABA, who provided a beacon of light and constructive criticism throughout the process. She pushed me to take a deep dive out of my comfort zone. While my heart raced, it also warmed and swooned for the incredible experience it allowed for me and my fellow performers to have. We all felt the collective power of motherhood, otherness, and community. I sometimes wish I could've pocketed that moment into a little treasure chest to peer into and remember.
What makes LABAlive shows so engaging is also how they are contextualized by ancient Hebrew text. Each piece is introduced through this ancient lens and it reminds us of the living, breathing quality of these words, and how, even thousands of years later, we are going through variations on the same theme. LABAlive possess the old and the new, the ancient and modern, and the deeply personal and yet universal qualities that inspire and challenge all artists.
As an incubator for new art, LABAlive has already provided audiences with a wide range of playful endeavors on the stage: from thirty six pots of coffee brewing to naked men dancing, from the Yemenite step reclaimed to Death of a Salesman in Chinese, political cartoons, puppets, cacophonous sounds, and so much more — all inspired by ancient Hebrew text.
Come and join us this May 31st, have a glass of wine and sit back to learn, cringe, glow and experience LABAlive.
---
---
---