LABA Second Stage Presents Keren Moscovitch's "One More Way: Revolt!"
Each year, LABA Second Stage provides LABA alumni the opportunity to further develop the ideas that came up in their residencies. Keren Moscovitch's fascinating installation One More Way: Revolt! can be seen at the Theater at the 14th Street Y.
Thursday, February 1, 7-10 PM
Friday, February 2, 4-8 PM
Saturday, February 3, 5-8 PM
Sunday, February 4, 4-8 PM
Adult Content, 18+
Here is Moscovitch (2016-2017 LABA alumna) describing the piece and her artistic practice: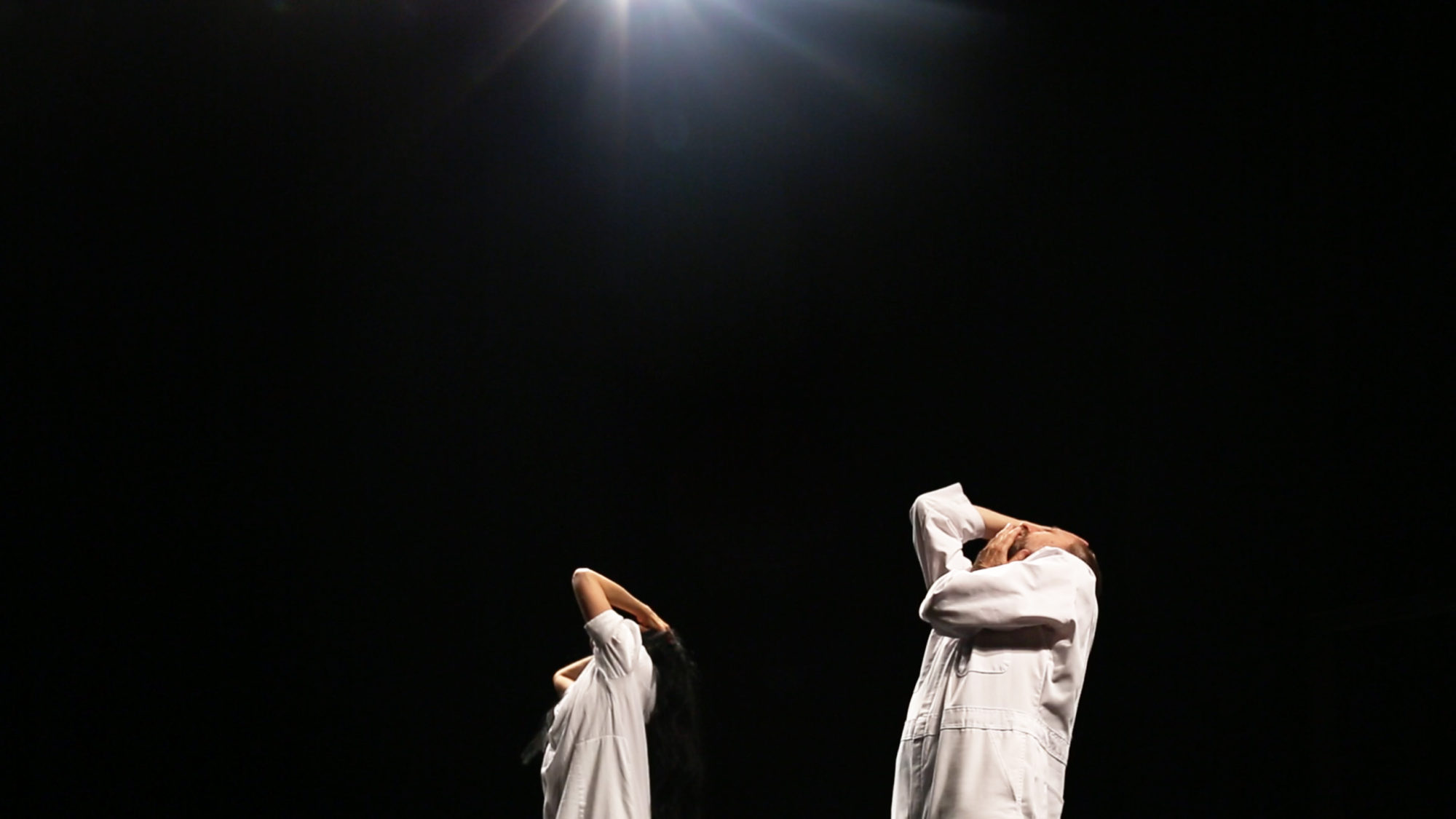 One More Way: Revolt! is a multi-channel, site-specific video installation that re-imagines a living text through performance and communal interpretation of intimate dialogue. To produce this piece, I reunited with performers Dawn Akemi Saito and Yehuda Hyman (2013-2014 LABA alumnus), and director Michael Liebenluft (2016-2017 LABA alumnus), to revisit the text we had performed on stage last year. This time, however, instead of a live audience, we unfolded the text in front of multiple cameras, audio recorders and a crew, resulting in footage that questions the possibility of singular meaning. Projected on multiple surfaces, the immersive experience invites viewers to meditate on the infinitude of significations found in the empty space between words, the ways that the body interprets text, and the subtle shifts in meaning that happen over short bursts of time.
The text for the piece comes from my documentary, One More Way to Sink Into My Heart which tells the story of a retired couple and their marriage, and the ways that they build intimacy, connection, love and understanding through their sexual practices. One More Way refers to the multiple ways that this very text is re-interpreted, giving it life far beyond its original context. The subtitle Revolt! draws from the etymological history of the word "revolt," which has only recently (in modern times) taken on social and political significance as the root of "revolution." Previously, the root "revolt" referred to movement in time and space, including twisting, rolling, turning back and exchange; a variety of literary significations related to text interpretation, re-reading and book formation; reflections and mirrors; and, eventually, the notion of change and rebellion.
Further, that which is revolting is that which is expelled from the safe container of the body, rejected from accepted meanings and forms. The piece therefore functions not only as a window into the minute workings of intimacy, power and play, but also, through this notion of "revolt" reveals the revolutionary potential of sexuality as a poetic rupture of meaning and subjectivity. We do this not simply through speech, but also through movement, dance, sound, collaboration, experimentation, surprise and accident — all ideas intrinsic to the notion of revolt. Ultimately, this piece suggests that it is through our intimacy that we are able to revolt against the power structures that imprison and oppress us as beings in the world, and create a new imaginary realm founded in freedom.
Keren Moscovitch is a multi-disciplinary artist and scholar investigating intimacy, sexuality and collaborative practices. She is interested in intimate relationships as poetic sites of deconstruction, and works in experimental modalities to find new meanings, interpretations and revelations in existing structures. Her photography, video and performance-based work has been exhibited worldwide, and her writings published widely. 
---
---
---