Meet Fellow Yonatan Gutfeld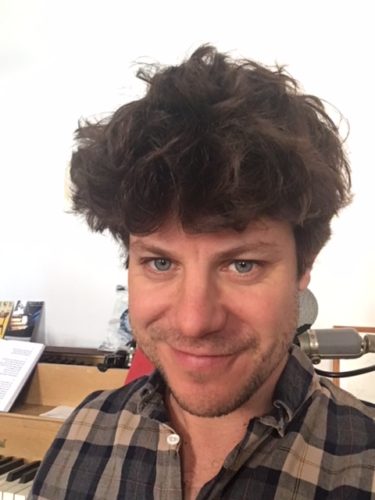 Yonatan Gutfeld was born and raised in Jerusalem. From a young age he played cello in orchestral and chamber settings.  Yonatan served as pianist and singer in the Israeli Air Force band. He then went on to study classical composition and orchestration at the Jerusalem Music Academy and jazz at the Rimon School of Music.
After graduation Yonatan moved to Tel Aviv, where he was an active member in the singer-songwriter scene and performed with his band around the country. He also contributed regularly to poetic tribute events at Tzavta and Confederation House and collaborated as a composer and arranger with a various artists such as Aya Korem, Miri Mesika, Eric Berman and Daniel Solomon. In 2011, Yonatan released his debut album, Hamatos Shel Ha'atid with the Eighth Note label. The critically acclaimed album dealt with reflections from the second Lebanon war, the lives of work immigrants in Tel Aviv and stories from Jerusalem.
Since 2013, Yonatan has lived and worked in NYC. He works as a music teacher and acts as the musical director of the School for Creative Judaism. He performs regularly in Jewish and Israeli communities and is deeply engaged in his practice as a singer-songwriter. In the past 4 years, he has recorded Hebrew children songs albums and written music to performance art pieces and theatre productions. In 2017, Yonatan released Time's Tyranny, an album of 9 compositions to Shakespeare sonnets in Hebrew translations.
WORK SAMPLES
https://yonatangutfeld.bandcamp.com/releases
LABA PROJECT
My LABA project consists of music composed for poems by the Israeli poet Ori Bernstein from the cycle Mishe'hu, his final book before he passed away in 2017. The poems describe a man in his last days, confined in his room and hallucinating about the life he had lived and his imminent death.
I am particularly drawn to the poems that connect life and death with images of immigration. Likely this is due to the circumstances of my life today as an immigrant as well as the lives of many others around me. In the poem below I read that New York, from the perspective of a new immigrant, and the nearing death are interchangeable. This connection between death and immigration expands my reading of these intimate poems to the Jewish condition and the human condition:
A man ends his life/ Between the decorations that he brought from his journeys/ Which his children will throw away upon his death/ Those and the memory of all his stories/ Of countries in the distance rising as the ship approaches from the depths of the sea/ As New York did when he came to it on a big ship with great hopes.
I plan on recording an album and producing a show based on 10 of the Bernstein poems. My vision is to collaborate with electronic musicians to reflect the hallucinations and jazz musicians to reflect the desire for life in the poems.
The performance will include English translations that will make it accessible to a wide audience and will serve as an additional layer of interpretation. I hope including visual artists and writers to work with me on the element of text presentation.
LABA is a unique fellowship. What drew you to apply?
As a singer-songwriter who works in NYC and deals with Hebrew text I was always interested in LABA.
I was drawn to apply this year when I learned that the Annual theme is Life and Death. I thought it would be a great environment to develop my recent project – music composed for poems by the Israeli poet Ori Bernstein from the cycle Mishe'hu, his final book before he passed away in 2017.
What is your favorite East Village spot?
I like the Williamsburg Bridge bike lane for the ease of rolling down after pedaling uphill.
What would you want your tombstone to say?
Thank you for this considerate question. Can I please have a few more years before I answer it?

---