Meet Fellow Yochai Greenfeld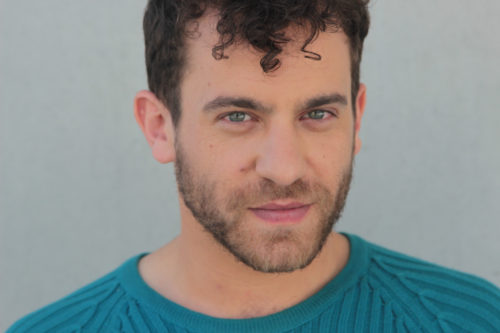 Yochai Greenfeld is an American-Israeli dancer, actor and singer. He was born and raised in Israel, and started training as a competitive gymnast at the age of eight. At fourteen he started training in acting with the Encounter Youth Theater Company and the JEST Musical Theater Company, as well as dancing with the Mehola youth company.  ​​When he turned eighteen he devoted two years to Judaic studies in a Yeshiva, and five years to a military service as an Intelligence officer in the IDF. Upon dismissal from his military service he put his dance shoes back on and enrolled in a BFA program at the Jerusalem Academy of Music and Dance, and started dancing for the JAMD Ensemble and the Fresco-Dance-Company. After three years of dancing with companies and with independent choreographers, he returned to Musical Theater and joined the Cameri Theater's West Side Story and the Porat Theater's Mulan.
Yochai moved to New York in 2017 and has danced with independent choreographers such as Roi Assaf and Troy Oglivie, appeared on the hit web-series Soon By You, and has just finished a tour of Gilded; a new musical by Kirsten Sandler and Guy Mannick which just premiered at the Capital Fringe Festival.  Yochai also teaches Hebrew and Bar Mitzvah at the School for Creative Judaism, and works as a PT assistant at James Fowler Physical Therapy.
WORK SAMPLES
My Personal Show Reel in Acting, Singing and Dancing:

Flying Tree – A Video-Dance choeographed and performed by me, produced and edited by Evyatar Rosenberg:

Featured Role in Chefetz – A short Movie By Yair Agmon:

Dancing in Heels to the Choreography of Frida Pirsson:

LABA PROJECT
Language is a medium of communication which stores a trove of cultural and personal significance that outlives its speakers; it's a defiance of death. Arameic is an example of a dead language which is not spoken any more. However, the richest troves of the Jewish Wisdom are preserved and kept alive by those who can still read it today. Yiddish is a language whose life/death status is yet to be determined, but what's for certain is that its trove of cultural and context is well preserves by its speakers and fans.
Drag is an edgy medium of performance; the gender-flexibility and hyper-realistic dimensions of a Drag Queen are in many ways a defiance of life. A Drag show can easily be dark and morbid because its host is hovering over the very borders of realism. The recent break of Drag culture into mainstream comes at a time when we are getting accustomed to filtered photos, hyper-positive self-portrayals on social media and other augmented realities. I believe that is the reason Drag is able to communicate to the mainstream just as successfully as it communicated to its limited audience until recently.
In my project I plan to explore the connection between the death defiance of language and the reality defiance of Drag. The question I am asking is what deeper value and content can ancient texts and tradition bring to a revolutionary medium such as Drag, and what kind of sassy makeover can Drag offer a bunch of ancient scripts written in dead languages.
LABA is a unique fellowship. What drew you to apply?
I love the Torah and its study, and I love the idea of keeping it in my life, as I grow as an artist. The opportunity to explore a connection between Drag and Jewish texts is something I believe couldn't be facilitated as successfully anywhere else than LABA; a space which invites me to mix the different spices of my inner world in a cauldron of artistic development.
What is your favorite East Village spot?
The Sock Man – a socks boutique.
What would you want your tombstone to say?
I wish I'd never gotten stoned.

---