Meet Fellow Richard Saudek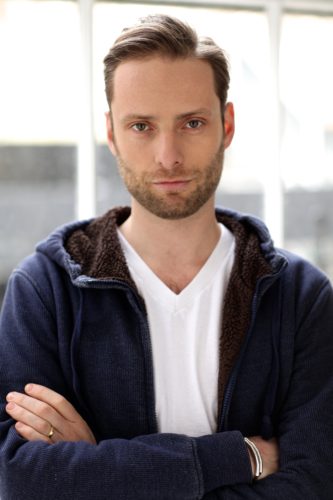 Richard Saudek grew up in Vermont making faces at himself in the mirror while he brushed his teeth. He ran off at the tender age of ten to perform in the circus for a number of years as a young clown where he studied under Rob Mermin (who is a mentee of Marcelle Marceau and Etienne Decroux, which makes Richard a de-mentee). He left the circus at the ripe old age of sixteen to pursue other theatrical stuff.
Richard has worked as an actor in NYC for just over a decade and has performed at Ars Nova, 59E59, Barrow St Theatre, The Bushwick Starr, HERE Arts Center, LaMama, Teatro Circulo, The Player's Theatre, IRT, The Pearl Theatre Company. Regionally his work has appeared at Stages Rep (Houston, TX), Shakespeare Theater Company (Helen Hayes Award, Washington DC), Williamstown Theater Festival (Williamstown MA), and American Repertory Theater (Cambridge MA). Internationally he has performed at The Edinburgh Fringe Festival (Edinburgh Stage Award for Excellence in Acting), and The Shanghai Theatre Academy. He has some on-camera work under his belt as well: CBS, HBO, and a few commercials.
WORK SAMPLES
https://vimeo.com/214200988

"Watch out for Richard Saudek, folks. An Off-Broadway star has been born"
-Edge Media
"​​First-rate young actor"
​-The NY Times​​
"Excellent at bringing a humanity and honesty to complex characters"
-Huffington Post
"Richard Saudek steals the show with an astounding physical performance…channeling masters of silent-era comedy like Charlie Chaplin and Buster Keaton. Without a single word he holds the audience captive…"
-TheaterMania
"The show's standout, however, is Richard Saudek as Peeps. His unbelievable physical characterization of this peculiar character is nothing short of remarkable. His completely silent three-minute monologue is a piece of physical storytelling the likes of which I have not seen since the late, great Marcel Marceau"
​ -StageBuddy.com
"The real show stopper is a mimic genius named Richard Saudek, who plays Peeps, a mute comic stagehand who communicates through gestures. Wearing hiked up overalls, his shoulders hunched to make his body almost a question mark, Peeps moves through the action with simian facial expressions and remarkably lithe arm and body movements, expressing himself in several unforgettable scenes I can only call "mimologues."
-Theatre's Leiter Side

LABA PROJECT
My project is a weird and wistful clown show.
Consisting of two clowns…until one of them dies.
Then it really consists of, like, 1.5 clowns.
I imagine a Chagall-esque fiddler to accompany the hijinks.
LABA is a unique fellowship. What drew you to apply?
I applied to LABA because I'm looking forward to working, playing and discussing huge ideas with brilliant and interesting people! I've recently become enamored with creating my own work, and having the resources to do so is a dream come true. Drawing on ancient texts to conceptualize the human condition with a bunch of folks who are definitely smarter than I am sounds like the kind of thing that would nourish my brain, soul, and artistic spirit, as well my belly (literally, right? Like, there's eating involved, yes?). It's hard to think of a reason why I wouldn't apply.
What is your favorite East Village spot?
B&H Dairy. The. Best. Grilled. Cheese. In New York City.
What would you want your tombstone to say?
<—-I'm with stupid.

---