Meet Fellow Marques Hollie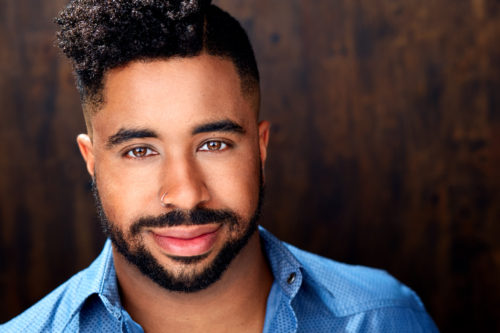 Operatic tenor and jewsician, Marques Hollie, has been singing professionally since 2008. Since his debut in Opera Omaha's production of Verdi's Aïda, he has gone on to perform more than 20 roles in the operatic canon, including rarely performed and new works. Off the opera stage and onto the bimah, he has served as a cantorial soloist for Shabbat and High Holidays services, attended workshops taught by Joey Weisenberg at Hadar, and facilitated meaningful and creative Jewish ritual with FED, led by Deborah Fishman, and Congregation Kol Ami in White Plains, NY.
An emerging Jewish leader, Marques was named one of New York Jewish Week's 36 Under 36 in 2018 and a member of the inaugural cohort of the Union for Reform Judaism's JewV'Nation Fellowship where he began developing Go Down, Moshe, a monodrama that explores the Passover story through Negro spirituals, civil rights music, and the narratives of enslaved people. Using his own lived experience to educate others, he has spoken on panels about Jewish seeker-hood, the diversity of Jewish identity, and working with marginalized Jewish populations for organizations including: Limmud NY, the Union for Reform Judaism, and Hebrew Union College.
WORK SAMPLES
I've had a few opportunities to bring aspects of this project into Jewish ritual, primarily by co-leading freedom seders that employ racial justice-focused haggadot, and including spirituals and civil rights-era music in the seder itself. Deborah Fishman, of FED, and I have collaborated on two freedom seders. And the work samples below are from those collaborations.
Deborah wrote the attached haggadah and I selected music for the seder (noted in the haggadah). Live audio from our last collaboration:
Deep River – https://soundcloud.com/marques-hollie/deep-river 
Were You There – https://soundcloud.com/marques-hollie/were-you-there
LABA PROJECT
Go Down, Moshe, is a liberation story. It is the retelling of the exodus from Egypt as a monodrama using the musical tradition of negro spirituals, civil rights-era music, and the written narratives of enslaved people. Go Down, Moshe will be told from a first-person perspective through an archetypal character that is either experiencing the exodus in real time or as a recently passed event.
LABA is a unique fellowship. What drew you to apply?
In the last two years or so, I've discovered the joy, fulfillment, and inspiration that focused text study as a spiritual practice can bring. LABA's stated mission and central focus resonate deeply with me, as I seek to bring new meaning and relevance to Jewish texts and how we interpret them. Practically speaking, the administrative, creative, and facility support/access provided by LABA at the 14th Street Y are the kind of invaluable resources that are critical in bringing new art works to life.
What is your favorite East Village spot?
I don't spend a lot of time in the East Village, but when I'm down there I always try to go to Dream Baby; this delightful little bar and cocktail parlor on Avenue B. Easily my favorite watering hole in all of NYC.
What would you want your tombstone to say?
"I must; I did."

---