Meet Fellow Mariano Wainsztein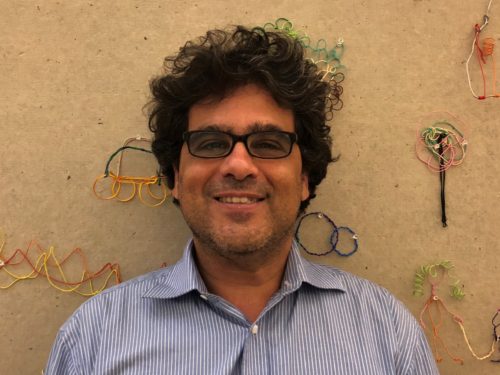 Born in Argentina and raised in Israel, Mariano Wainsztein is a New York-based musician and filmmaker.
He studied composition at the Tel-Aviv Music Academy and at the Royal Conservatory in The Hague; Mariano holds an MFA from Hunter College in Media Arts.
Wainsztein has composed music for Israeli artists including The Batsheva Dance Ensemble, the choreographer Emanuel Gat and the visual artist Guy Ben-Ner.
Mariano's music and film work has been shown in downtown theaters including The Kitchen, Cinema Village, The Brecht Forum and Anthology Film Archive.
Mariano Wainsztein is a National Board of Review of Motion Pictures awardee for his documentary film the Animal in You; featuring renowned classical singer Andreas Scholl.
He is a teaching artist at Educational Alliance; and an adjunct professor in the Film and Media department at Hunter College.
LABA PROJECT
HA' LOAZY
הלועזי
SONGS FROM EXILE
שירי גלות
Poems by
Ha' Loazy
Music by
Mariano Wainsztein
Performed by
Mariano Wainsztein
and The Ivankas
From the Israeli press:
"The new cycle of poems by the self-exiled poet Ha'Loazy (הלועזי) deals with the spiritual death of the contemporary Israeli cultural and political discourse; while engaging the reader and indulging himself in a poetic exploitation of the stingy economics of the Hebrew language.
His poems create and reaffirm an ambiguous sense of identity; and an endless force of intellectual, cultural and artistic life."
    Mariano Wainsztein
    (Ha' Aretz newspaper, עיתון הארץ, April 1st, 2018)
Wainsztein, who has had a fragmented and complex lifelong relationship with the eccentric poet, is the only musician who has been granted permission to compose his subversive verses.
Mr. Wainsztein will perform the songs, with his longtime band "The Ivankas", and will inevitably contextualize and translate the lyrics to English while adding his personal and explicitly bias commentary.
LABA is a unique fellowship. What drew you to apply?
The prospect of connecting through my work and through the work of other LABA fellows to Jewish texts, culture and history.
What is your favorite East Village spot?
Buenos Aires restaurant (Not for vegetarians.)
What would you want your tombstone to say?
OB-LA-DI
OB-LA-DA

---