Meet Fellow Ari Brand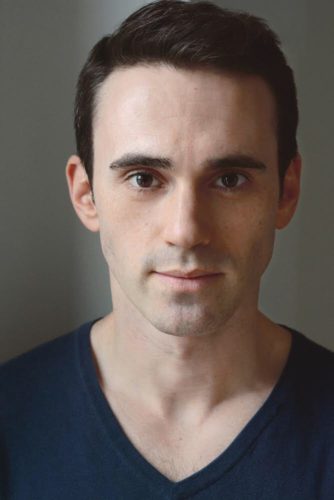 Ari Brand is an actor, musician, teacher, and lifelong New Yorker.  After earning a B.A. in Theater and Psychology from Wesleyan University in 2006, Ari started a career as a theater actor. He has since performed on dozens of stages on and off-Broadway and across the country under the direction of a number of celebrated artists, including James Lapine, Mary Zimmerman, Michael Greif, David Cromer, and Kathleen Marshall, and alongside actors including Laurie Metcalf, Oscar Isaac and David Straithairn. He has also played several roles in film and television, including on the USA Network show "White Collar", the upcoming Comedy Central sitcom, "The Other Two" and the feature film "To the Flame," which recently premiered at the Queens World Film Festival.
Perhaps most notably, Ari played the title character in "My Name Is Asher Lev," the award-winning off-Broadway play based on Chaim Potok's novel about a painting prodigy struggling to reconcile his artistic vision with his Orthodox Jewish family and background. He performed in the role of Asher Lev 363 times over 11 months at the Westside Theater in midtown Manhattan, in what the New York Times called "a haunting performance as a child who grows in to a man, suffering the torture of a talent that offends the world into which he was born."
Ari lives in Manhattan with his wife Caitlin, a professor at Rutgers University, and their son Oscar.
WORK SAMPLES
aribrand.com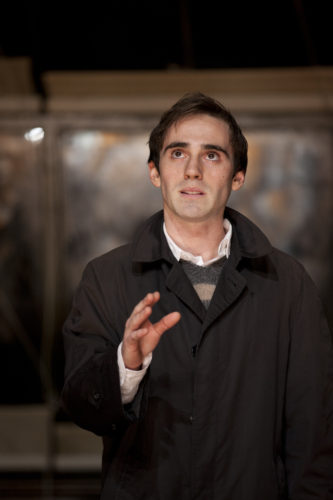 My Name Is Asher Lev, Off-Broadway, 2013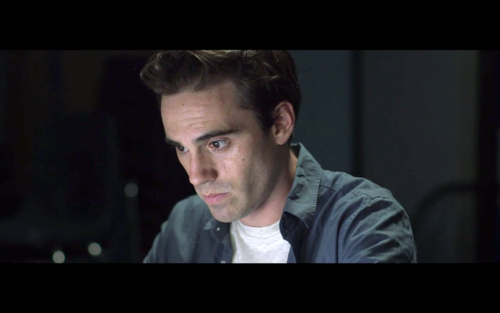 To The Flame, 2018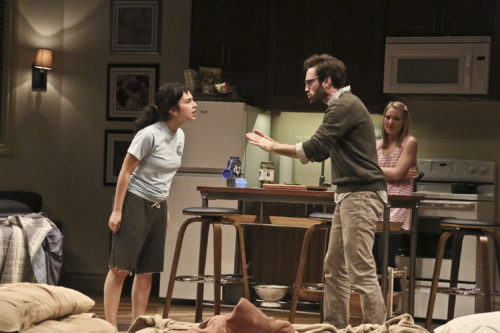 Bad Jews, Geffen Playhouse, 2015
"With his dark eyes burning, the young actor… brings a grave, sincere intensity to a character willing to sacrifice his culture and faith to follow his calling. It's not the showiest performance of the year, but it may be one of the most affecting." – New York Post
"Brand demonstrates a complete command of his voice and body, pushing the story along, creating tension and humor and anger and sadness with understated ease. Handsome and compelling, he's a genuine find; stumbling upon his talent full-blown makes you know how that art dealer felt when she first saw Asher's work. It doesn't happen often." – Huffington Post
"a finely focused, deeply sincere Ari Brand… My Name Is Asher Lev is a simple statement of that simplest and most complicated thing — a person's creation of him- (or her-) self, that all-important second birth that so many of us put off till adulthood (or death). You should see it, your children should see it, everyone should see it, from Williamsburg to Wasilla." – New York Magazine
LABA PROJECT
I'm writing a full-length play that explores my personal experience of the AIDS epidemic in New York City, through discoveries I've made and continue to make about my father's life and death. My father, Natan Brand, was a a virtuosic concert pianist, a lapsed orthodox Jew from Israel and a closeted gay man. After marrying my mother, moving to Greenwich Village and fathering two sons, he fell ill and died of AIDS in 1990, when I was six. Like so many others, he kept crucial elements of his life, and his disease, hidden from view; to this day, my family maintains many of these secrets to "protect his memory". My play will explore this hidden history and its effects on my life, and the larger world. By telling our story, I hope to shed light on the hidden lives of so many others like us.
LABA is a unique fellowship. What drew you to apply?
I knew I wasn't going to keep developing this project without help – creatively, financially, or otherwise. Last year I performed in a friend's LABAlive presentation: a unique, thought-provoking piece about family and memory… much like the one bouncing around in my head. I was impressed by the freedom LABA gave its fellows to explore new work, and as I learned more about the fellowship, it seemed like a challenging, but safe atmosphere in which to write my play.
What is your favorite East Village spot?
I was once an accidental bartender at a Russian mob-owned tea room/vodka infusion bar/pan-Asian restaurant with Moroccan decor that blasted Edith Piaf down Avenue B between 2nd and 3rd. No one ever came in – it was clearly a front. I quit and it closed quickly. It's probably a CVS now. I miss it.
What would you want your tombstone to say?
He spent a lot of time doing the things he loved doing. He did a lot of things he was good at, and he was really good at them. Every once in a while, he tried some other things, and failed, and then tried again. This is one hell of a big tombstone, with a lot of words. He must've done pretty okay.
---