Romeo and Juliet face Israeli Reality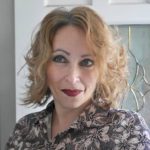 Dr. Shirli Sela-Levavi, a literary scholar, returned from our The Seventh Day Festival for Israeli Literature with illuminating insights into the origins of the Israeli-Palestinian conflict in Jewish-Israeli relations to its Other.
Romeo and Juliet face Israeli Reality
Last week, as part of the ongoing festival for Israeli literature, The Seventh Day (curated by LABA's Hanan Elstein; presented by the 14th Street Y in collaboration with the Jewish Book Council and co-sponsored by the Israeli Consulate), Soho House hosted an evening with Israeli author Dorit Rabinyan and American editor and author David Samuels of Tablet Magazine. The explosive potential of this festival has already transpired when earlier this month some left wing academics criticized the festival as being yet another Zionist gesture vindicating the occupation.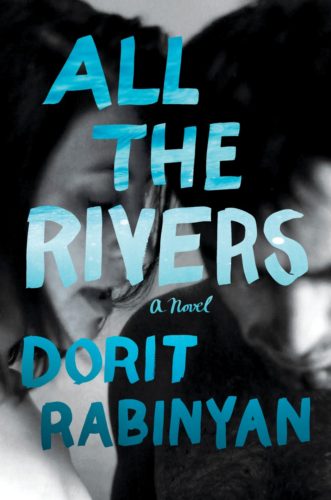 The discussion of Rabinyan's latest and recently translated novel, All The Rivers, in itself a political work that aroused outrage and provocation, could not remain solely in the realm of literary and aesthetic judgements. Samuels, a Jewish-American intellectual of Eastern European descent, and Rabinyan, an Israeli intellectual of a Sephardic-Iranian descent, could not leave their affiliations aside. Or, as Samuels commented at the start: "when I was a child, the word 'individual' meant the unique, singular human being. Today, 'individual' means the member of different ethnic, gender, racial or political groups." This is true, of course. In other words, this is one way to describe the modern and especially postmodern acknowledgement that no individual is one whole single entity, as Descartes described it. Rather, the individual is now perceived as defined by its group affiliations, and even more so by its Others.
The meeting of these two intellectuals, sharing the same religion but inhabiting different national cultural circles, one American, the other Israeli, also allowed for some interesting comparative observations on the part of the host. As Samuels explained:
"There are two things that appeal to me in Israeli literature. One is the fact that family is still an important cornerstone in people's life. The protagonists usually have significant relations to their families, unlike the American protagonist who roams in this world with no familial affiliations. The other thing I found refreshing is the relative lack of political correctness in Israeli literature that allows an author like Rabinyan to represent an Arab man. In American culture you can no longer represent the Other or speak in its voice. For this reason in our literature we usually find the author writing a protagonist representing him or herself. No Others. No plurality of voices."
Samuels' lament is familiar to anyone who attended American intellectual discourse in recent decades: the backlash of political correctness has been evident in a certain intellectual fatigue that started already in 1987 with Allan Bloom's The Closing Of The American Mind. But, just as in other prescient books, the lesson of this book took years to unfold: the breakdown of liberal education, the rise of relativism, and the hyper-sensitivity to the Other have ended up in a radical silencing of any kind of criticism directed from the intellectual center to the margins, a questioning of liberal values, and an uncritical reverence for the Other. It also ended in a backlash, as we all know: the rise of white supremacy, the revival of the KKK and the triumph of Trumpism.  
In this picture Rabinyan occupies the place of a redeemed Other: she is a Sephardic female intellectual, but one who has already won wide acclaim in Israel and other countries. Her literary debut, Persian Brides, was a folkloristic tale of Jewish life in Iran, colored with Oriental charm and fantasia. Gradually, she has emerged from her niche as a folkloristic storyteller representing her ethnic group, and became a voice representing Israeliness.
In All the Rivers, her Sephardic identity is significant. Still, she is representative of much more. Her protagonist, Liat, is an Israeli author who wins a Fulbright scholarship and goes to Brooklyn, where she meets a group of young Palestinian intellectuals, recipients of the same scholarship. She falls in love with Chilmi Nasser, a Palestinian artist from Hebron, and their love is both entrenched and curtailed by the fact that they met in a third country. Rabinyan openly admits that the plot is based on her own relationship with a Palestinian artist, in similar circumstances.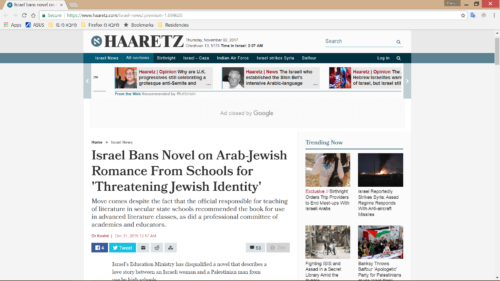 After being published in Israel in 2014 and winning literary acclaim and commercial success, the book was denounced by the new Israeli right-wing Minister of Education, Naftali Bennett. The novel was recommended for the list of mandatory readings in Israeli high schools, when Bennett declared that the book, presenting an inter-ethnic love story, might encourage young adults, still lacking in common sense, to intermarry with Palestinians. The outrage caused by this decision could not have served the book's sales better. Additional thousands of copies were sold, and Rabinyan, who first suffered terror and insomnia as a result of the scandal, could eventually declare, triumphantly: "if only one book should be banned in this world in the future, I hope it will be mine." 
In the dialogue with Samuels, the politics of identity transpired in the literary and in the personal realm simultaneously. In the novel, Liat, being the daughter of Jewish Iranian immigrants, is an Arab Jew. Falling in love with a Palestinian, she substitutes her national allegiance for her ethnic one. In reality, Rabinyan talked about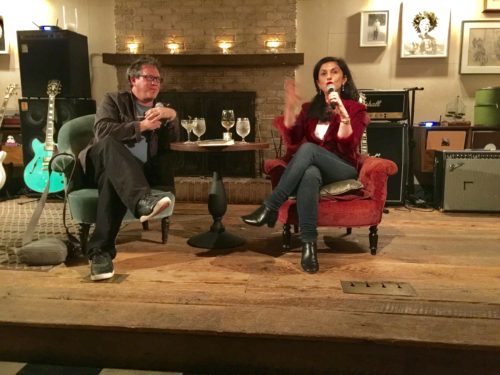 the transformation her parents went through in turning from Arab Jews to Jewish Israelis: "I remember the day my father shaved his mustache, because he didn't want to be recognized in Israel as Arab. My mother started bleaching her hair. They all started to wear Star of David pendants, to make it clear that they were Jewish." In Israel of the 1970s, as Rabinyan argues, Sephardic Jews were pushed to right-wing parties by the latent racism of the political center. The fact that Rabinyan's protagonist chooses a Palestinian as her love partner is, therefore, complicated both by international and domestic politics, and is an act of ethnic reconciliation on the part of the Sephardic author.
As an Israeli who surfs frequently in social media websites, I could not avoid the irony of Rabinyan's comments. Just a few days ago I noticed that several people shared the same story in my Facebook feed: the father of an Israeli girl, a star of an Israeli reality show who fell in love with a handsome Muslim man, wrote an emotional status. In it he explained why he fiercely objected to his daughter's affair. Later he also gave an interview to Israel Hayom regarding this affair. He talked about his concern for Jewish continuity in the face of the Israeli-Arab conflict, and the fact that Jews are a tiny nation among the world's nations. The father also told of his phone conversation with his daughter's lover: "I explained to him that I accept him as a person, and that we could be friends, have great laughs together, go out together, or do anything I'd do with other people, as he is my equal. But we will not have blood relations." The girl, a beautiful Ashkenazi blond, eventually followed her father's verdict and left her partner.
"Israelis", noted Rabinyan in her conversation with Samuels, "still hold a minority discourse in spite of the fact that they are the majority in Israel. For them, the story is still that of survival, as it was in the shtetl. In actuality, the ones who should fear cultural assimilation in Israel are the Arabs."
But the Jewish-Israeli isolationist discourse is even more ancient than that of the shtetl. In the Book of Numbers the Torah puts the famous saying in the mouth of Bala'am, the diviner, asked by King Balak to curse the Israelites: "It is a people that shall dwell alone, and shall not be reckoned among the nations." (Numbers, 23:9). This verse later turned into a deep national credo. The need to stay away from other nations and avoid assimilation is the deepest root of Jewish survivalist mentality. For this reason, the ironic headline given to the aforementioned article in the newspaper, i.e. "Survival", was not entirely ironical. It is the name of the reality show, but it is no doubt an expression of a much deeper Jewish tenet that transcends historical boundaries.
What do we make of this minor scandal? In Israel 2017 inter-ethnic affairs are sexy as long as they are literary ones. Yes, it is tempting to buy precisely the book that Naftali Bennet decried, but when it comes to your own daughter – progressive ideologies evaporate in favor of the deep, ancient isolationist credo.
And, yes, Israeli society certainly cherishes family values as Samuels suggested. But in dark times they might serve very questionable objectives. Israeli literature lets the Other be heard as long as this Other promises to remain fictional.
Shirli Sela-Levavi graduated from her Ph.D. in Comparative Literature in Rutgers University in 2014. Since then she has taught English and rhetoric in different colleges. You can follow her literary blog at http://pendora.reviews/.
---
---
---