Can Peace be ever achieved in the Middle East?
The Seventh Day: Israeli Literature Fifty Years After the Six-Day War
Israelis and Palestinians have been fighting each other over a small piece of land for almost a century. Despite many attempts to resolve this blood-soaked conflict, no one can see an end to it. What elements within Israeli society make a just peace for both Israelis and Palestinians almost unimaginable? And how does the conflict impact the daily reality of life in Israel?
These questions run like a common thread through The Seventh Day Festival. Curated by LABA Journal Editor Hanan Elstein and featuring, among others, our lead teacher Liel Leibovitz and resident scholar Ruby Namdar, the festival explores Israeli literature, politics and society fifty years after the Six-Day War.
The Seventh Day Festival is a series of five provocative conversations between ten acclaimed Israeli and American authors. The festival aims to shed light upon a wide range of controversial issues at the core of Israel's daily reality, such as:
The Israeli-Palestinian conflict
The fragility of democracy
Domesticity in times of turmoil
Creativity, censorship and silence
Hebrew writing in the Diaspora
Jewish life in America
The future of Israel
The festival was launched Wednesday, October 25th, at the famous KGB Bar with a fervent discussion between Nir Baram (A Land Without Borders) and LABA alumnus and The New York Times Book Review editor Gal Beckerman.
The following night we were at at Soho House, where Israeli author Dorit Rabinyan conversed with David Samuels, literary editor of Tablet Magazine, about her latest novel, All The Rivers, a tender tale of a love affair between an Israeli and a Palestinian, which sparked one of the most prominent scandals in Israel's literary history.
Samuels pointed out two reasons for his infatuation with Israeli literature:
"One is the fact that family is still an important cornerstone in people's life. The protagonists usually have significant relations to their families, unlike the American protagonist who roams in this world with no familial affiliations. The other thing I found refreshing is the relative lack of political correctness in Israeli literature that allows an author like Rabinyan to represent an Arab man. In American culture you can no longer represent the Other or speak in its voice. For this reason in our literature we usually find the author writing a protagonist representing him or herself. No Others. No plurality of voices."
Literary scholar Dr. Shirli Sela-Levavi returned from the event with fascinating insights into the origins of the Israeli-Palestinian conflict in Jewish-Israeli relations to its Other. You can read her thoughts in Romeo and Juliet face Israeli Reality.
On November 2nd at 7:30PM we're at Brooklyn's Congregation Beth Elohim, where notable Israeli novelist Eshkol Nevo is in conversation with Elissa Goldstein. In his latest bestseller, Three Floors Up, Nevo continues to unmask the convenient camouflage of ordinary Israeli bourgeois to expose a vulnerable society on the verge of a meltdown.      
Next week, on Monday, November 6th at 6:00 PM, internationally acclaimed author Assaf Gavron will talk with NYU Professor Ronald W. Zweig at the Taub Center for Israel Studies. Praised by Adam Kirsch as "the great Israeli novel," Gavron's unsettling settlement-saga The Hilltop dismantles the complicated, extreme, violent and absurd reality of the Israeli-occupied West Bank.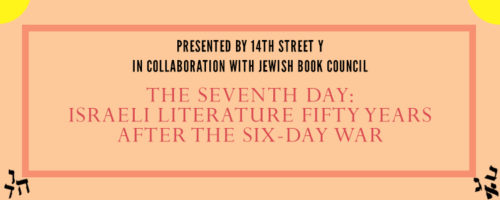 Finally, on December 7th, at the American Jewish Historical Society and the Center for Jewish History, New Yorker and expat Israeli Ruby Namdar (The Ruined House) is in conversation with Tablet Magazine's Liel Leibovitz for the festival's celebratory closing event.
For the full program and to RSVP, go to The Seventh Day Festival. For further insights into the festival and its conception, read Reading into Israel, an interview with its director.
The Seventh Day Festival is presented by the 14th Street Y in collaboration with the Jewish Book Council, and co-sponsored by the Israeli Consulate in New York.
Fifty years on, Israel's shortest war remains a defining moment in Israeli history. Come hear what some of Israel and America's most prominent authors have to say about the Six-Day War and what it means to the future of Israeli politics and culture.
---
---
---