Hadar Ahuvia, "Everything you have is yours?"
On Thursday, March 16th, LABAlive Two: Others will present an evening of art works and subversive teachings exploring our annual theme, OTHER. The evening will feature teachings by LABA Scholar Ruby Namdar and works by fellows Abigail Katz, Gordon Haber, and Hadar Ahuvia, who will present her dance-work-in-progress, Everything you have is yours?.
Here, Ahuvia introduces her work, offers a glimpse into her working process and shares some thoughts on the inherent relationship of Israeliness to Palestinianess.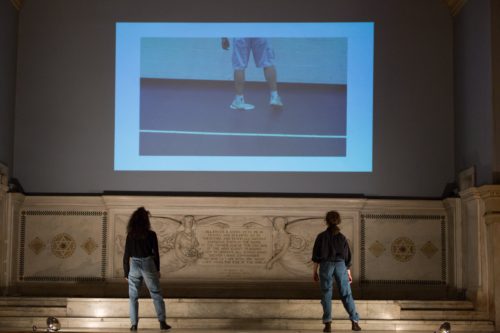 Everything you have is yours? deconstructs instructional videos of Israeli folk dances by Israelis and American Christian Zionist to uncover the Arab origins of Israeli identity.
As an Israeli American immigrant and daughter of kibbutzniks, my sense of identity was deeply grounded in a mythic Israeli history and its folks songs and dances. I was surrounded by distilled images and tastes of Israel. As I become more engaged in anti-occupation activism, I've returned to examine these.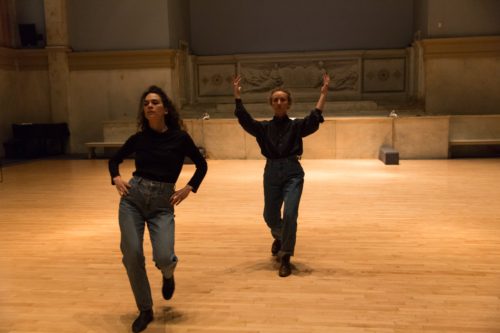 In early stages of the research I examined Israeli folk songs, some that I had danced to or sung on Friday nights with family, some I became obsessed with through the recordings of Ester Ofarim. Ester was controversial in the 1960s for performing German songs for European audiences soon after the Holocaust. She claimed a balance by performing Hebrew songs at each of her performances. One of these, "Ve'Ulai" (And Perhaps), is a poem by Rachel, the first female poet to write in modern Hebrew. I reinterpreted the song, and developed an improvisational responsive folk dance practice.
Like most Israeli children, my collaborator Mor and I both learned Israeli folk dances in elementary schools. Mor remained in Israel until adulthood, and had little continued relationship to those dances. I moved to the US, and continued practicing and performing the dances – at Jewish Community Centers and synagogues.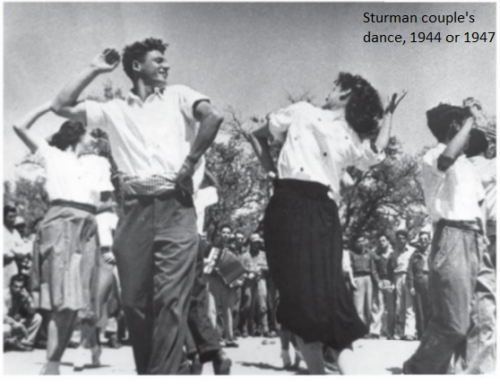 I've been tracing the history of the dances to the founders of the Israeli folk dance movement in the 1930s, Ashkenazi women choreographers who were trained in European modern dance. In a drive to transform themselves into Mediterranean Jews, native to their place of settlement, they appropriated steps from Yemeni Jews and Palestinian, who they imagined as vestiges of their biblical past. The appropriated gestures were set to new Hebrew songs, performed around the world, minimizing the Arab Identity of Yemeni Jews, and obscuring the Palestinian claim to the land of Israel-Palestine.
The misappropriation continues today at the hands of Christian Zionists in the U.S., who minister through their teaching of what they call Israeli, biblical, messianic or davidic dances.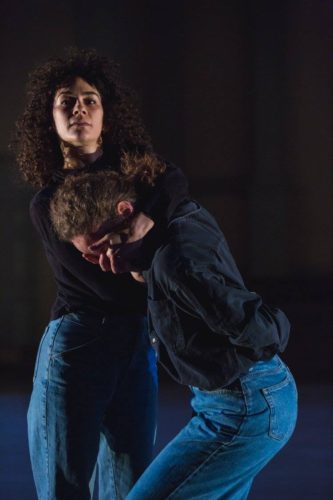 My relationship to Mor and to the dances echoes the relationship between the construction of national identity and its distillation to an essence in diaspora. In Everything you have is yours?, Mor and I imitate and translate instructional videos by Israelis and American Christian Zionists, embodying distance and proximity to Israel, Israeliness, and enacting the feedback loop through which national identity is disseminated and sustained. In our performative mirroring of these videos, we emphasize the subtext of their instructions, making explicit the Otherness at the kernel of Israeli identity.
A verse that stands out to me in our study this past year comes from Kabbalah. "As it is on the side of holiness, so it is on the other side, male and female contained within one another" (Zohar I:147a). I hear in this text a profound relational understanding. In the Zionist narrative, Palestinians are said to have had no identity or culture until the threat of Zionism appeared. Actually, Israeli identity has developed just as much in relationship to Palestinianess, from within it and against it.
Examples of the videos that inspired this piece.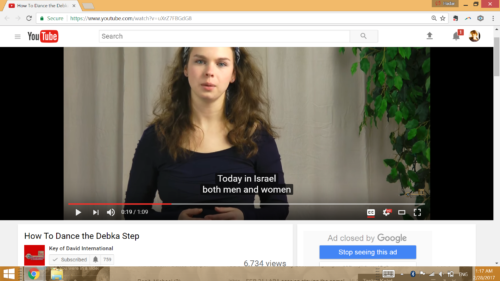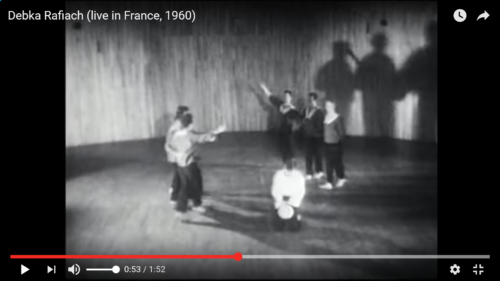 ---
---
---