Gil Sperling on "A Yiddishe Wagner"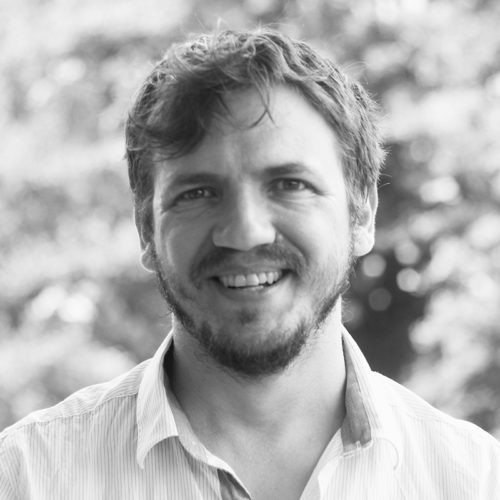 On Thursday, February 9th, LABAlive will present an evening of art works and subversive teachings exploring our annual theme, OTHER. The evening will feature teachings by Ruby Namdar and works by fellows Keren Moscovitch, Michael Gac Levin, and Gil Sperling, who would present his work in progress, A Yiddishe Wagner.
Here, Sperling talks about his project with LABA Journal Editor, Hanan Elstein, and shares his thoughts on its relation to our theme, OTHER.
Hanan Elstein: Tell us about your project.
Gil Sperling: A Yiddishe Wagner offers a re-imagining of history of Classical Music. It raises the following fundamental question: what if Richard Wagner was not the original author of his operas, but stole the work of a forgotten Jewish composer?
In Richard Wagner's anti-Semitic polemic Judaism in Music he condemned "The Jew" as being innately incapable of any artistic expression. Wagner claimed Jews are merely good imitators who are unable to create authentically and can only mimic others. We are picking up on that idea, but then turning it on its head by creating a hypothetical 19th century German Jewish musician named Hershel Shpigelmacher. It is Shpigelmacher, according to this hypothesis, who was the original composer of much of the music we are familiar with as Wagner's. We are presenting Wagner simply as a talented imitator.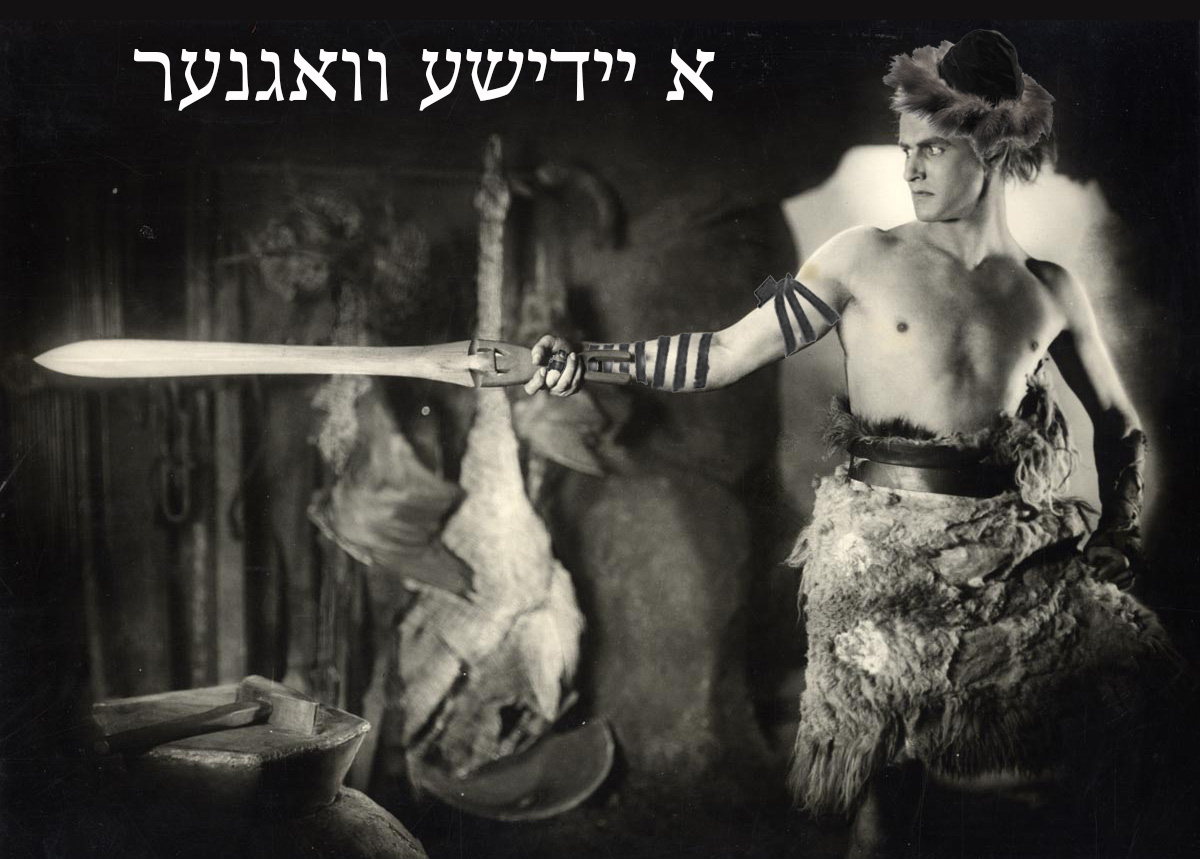 HE: What sparked this idea, which has a sting of cultural subversion in it?  
GS: I began from a desire to bring together these two cultural elements – Wagner and Yiddish. I felt that there was a strong pull between them, but simultaneously a potentially explosive attraction. However, I did not want to translate a Wagner opera into Yiddish. Alternatively, I wondered: if a Jewish composer took on a Wagnerian undertaking, what materials would he use? What could be used for composing the Jewish Ring of the Nibelung?
The rather obvious and general answer I came up with was the Bible. I began researching potential parallels between biblical narratives and some of Wagner's librettos, and focused on the story of Saul and David in 1 Samuel, where we are told how Saul was anointed as the first king of Israel and later succeeded by David who became the founder of a dynasty of kings known as the House of David. Saul's story is one of a tragic downfall. He reminds me of king Amfortas in Parsifal, as well as Brünnhilde in The Ring cycle, who was punished severely for the sin of disobedience. And David is obviously Siegfried (or the other way around!) – the brash young hero, a bit of a punk.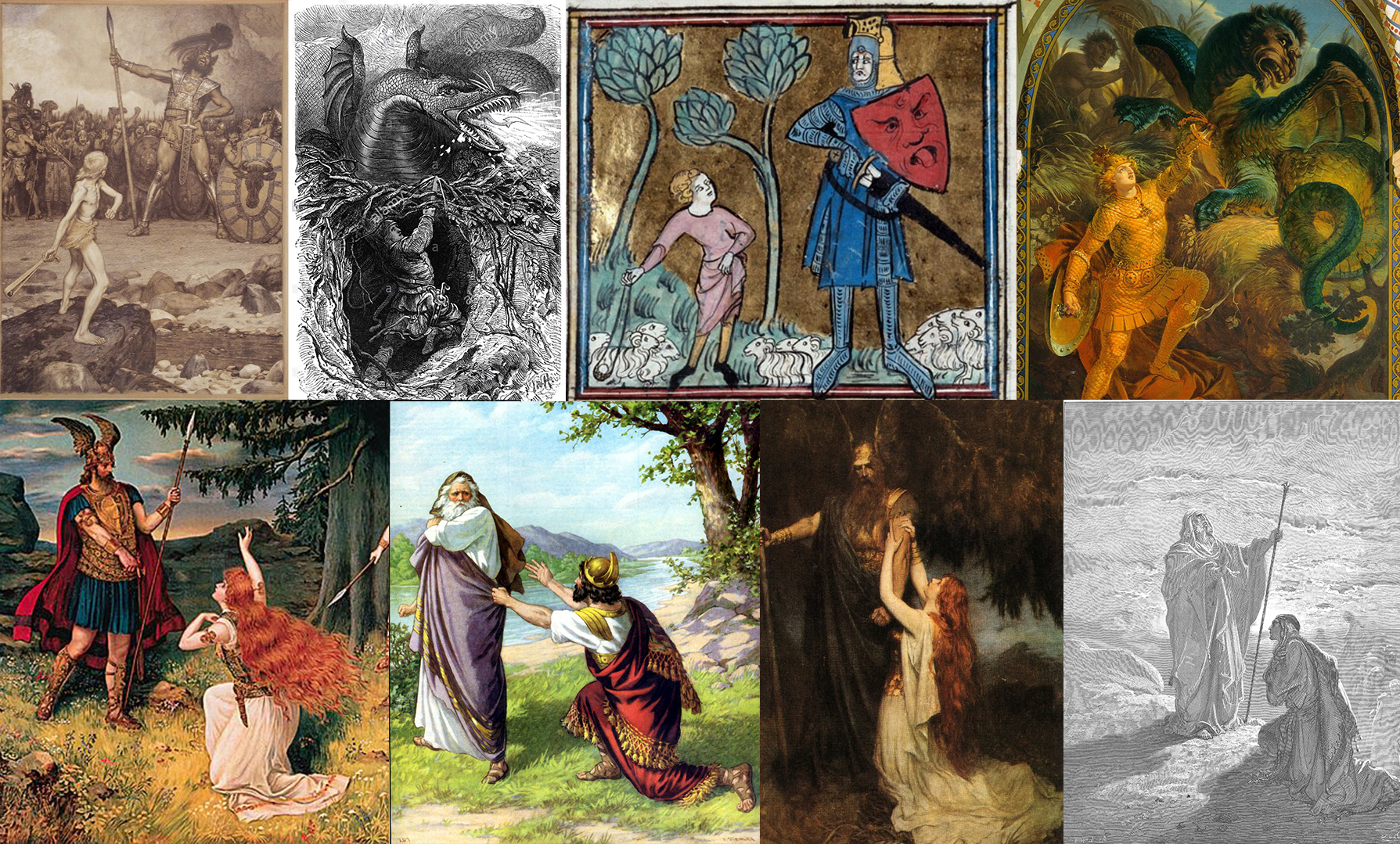 HE: Could you tell us more about your working process?
GS: The project's first developmental phase focuses on creating the musical repertoire for Shpigelmacher. We have been working on the libretto as a team comprised of myself, the musical director Jonathan Breit, and Amanda (Miryem-Khaye) Seigel, a Yiddish singer, songwriter, actor, and research professional. It has been a relentless challenge. We took an existing musical score composed for a text in a specific language and we try to make it work for a different text in a different language. We are faced with quite many challenges: the outcome should sound plausible, keep the musical integrity intact, respect the linguistic character of the Yiddish and make for an interesting opera.
The next step is working on the new score with performers. At the moment, we have a cast of three singers (Joe Chappel, Daniel Pincus and Jessica Tivens Schneiderman), of whom two have more of an operatic background, and one is a cantor experienced with singing in Yiddish. They are amazing, and I am grateful to them for pulling off this crazy idea.
It is an ongoing process, as the project is still in its beginning. It will iterate as we create more operatic material and try it out. Ultimately, it has to be a 24-hour show of six-part saga, obviously!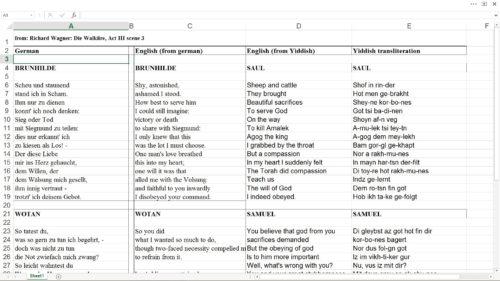 HE: What are you planning for the work's presentation at our upcoming LABAlive 1 event?
GS: LABAlive 1 offers us an opportunity to present the work-in-progress to an audience. At the event, we will show samples of our working process and the temporary outcomes. We will perform two opera scenes, keeping in mind that each scene has two versions – one in German, written by Wagner, and another one in Yiddish, i.e., the Other of Wagner's piece. We will also present the first steps of the project's visual concept. For the design we use live video compositing, combining live video images of the performers with imagery from various sources. We will show the transition between the different narratives and cultural contexts of the piece.
Another element I will be experimenting with is sound. In addition to the live music on stage, each viewer will be provided with an audio channel through earphones. On this channel, the viewer/listener will get the sung Yiddish and the translated German, as well as further information.
There is definitely a satirical streak to the project and my approach to some materials is ironic, but what drives the work is a sense of cultural curiosity, a love for Yiddish and for the music, and an appreciation of Wagner's artistic achievements. We hope to offer the audience a taste of these features.
HE: What about the work and our annual theme? Any new thoughts about the other and otherness?
GS: It is interesting to observe how cultures construct their Other. That is something I would like to explore more in the project. Wagner relies on the Jew as Other to construct his artistic-philosophical argument. The Bible confronts the people of Israel with the Philistines and the Amalekites. There is also an interesting psychological relation between the languages, Yiddish and German. Yiddish developed out of medieval German but there is an animosity among Yiddish speakers toward German, a need to distance the language from one of its main roots. What we are doing heightens those conflicts.
---
---
---