Meet Fellow Abigail Katz
Abigail Katz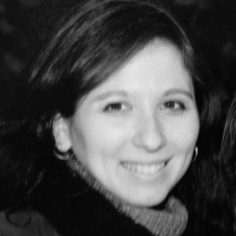 serves as Director of New Play Development for Atlantic Theater Company where she has been on the artistic staff since 2009.  In 2014 she expanded Atlantic's play development program by creating the Amplified Reading Series and Launch Commission for early career writers. She was previously Literary Associate and Dramaturg for The Civilians, where she worked on productions Brooklyn at Eye Level, This Beautiful City (The Vineyard Theatre) and Paris Commune (The Public Theater). She was also Producer for Voice & Vision, a company devoted to developing women theater artists. She teaches in Atlantic Theater Company's Professional Conservatory program and the College of Performing Arts at The New School, and has taught in  the MFA program at Columbia University School of the Arts, SUNY Stony Brook/Southampton as well as workshops at PlayPenn, Southampton Writers Conference, the Commercial Theater Institute, the Playwrights Foundation, CityWrights/City Theatre and Samuel French. Additional affiliations include the Arts Committee for the Alumni Career Task Force for The Dalton School and the New York City team for the American Theatre Archive Project. A native New Yorker, Abigail received her MFA in dramaturgy from Columbia University School of the Arts..
LABA PROJECT:
My LABA project is a theatrical adaptation of Rodger Kamenetz's book The Jew in the Lotus, using events from the book and hopefully interviews with participants in the 1990 meeting of Jewish spiritual leaders and the Dalai Lama.  My collaborator, Ben Kamine, and I want to explore the story of this event and how it yielded insights into our own identities as American Jews, what it revealed about how the Jewish community relates to other communities, and how Jews relate to each other.  Have we evolved in the last 25 years or has nothing changed?
WORK SAMPLE:
Lobby display panels for GABRIEL, by Moira Buffini, Atlantic Theater Company, 2010.
What drew you to apply to LABA?
LABA is indeed a unique fellowship, and its structure and purpose felt particularly right for this project.  Having the opportunity to study Jewish texts with fellow Jewish artists provides a cultural, intellectual and spiritual foundation that I think is critical for this piece. Exploring our tradition in this way will allow a greater appreciation of Other (this theme being of great interest to me and probably the main reason I applied), and will generate a greater understanding of the universal through the particular.
What calls to you about this years particular topic, OTHER?
I feel that we are in an extreme moment of OTHER right now. The concept of OTHER implies some form of exclusion or exposure, some thing or circumstance that sets one apart from the group. The result is not necessarily negative, as Otherness can be celebrated. Often though, Otherness comes in forms that have a detrimental effect on the person or group that has been labeled as Other, due to race, religion, ethnicity, socio-economic status, immigration status, gender identity, sexual orientation, political beliefs, age, physical ability, physical health, mental health, level of education, marital status, parental status and so on.  The list is long, because we have all at some point felt some version of Other.  If that is the case, how are we all contributing to the experience of Other for people around us? For people far from us? Are we actively participating is creating a negative sense of Otherness, or are we working toward an inclusive version of it?
---
---
---