Meet Fellow Michael Gac Levin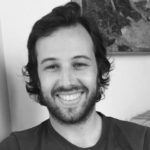 Michael Gac Levin was born and raised in Los Angeles, California.
He received his BA in classics from the University of Chicago, where he wrote his undergraduate thesis on the construction of the "barbarian" in ancient Roman literature. He was elected to Phi Beta Kappa, a national academic honors society, in his junior year.
After graduating in 2006, Michael moved to New York, where he began to work as an artist. He had his first solo exhibition in 2013, entitled Jews of Today, at 109 Gallery in Williamsburg. Jews of Today was a multi-year research project in which he explored Hasidic codes of dress, first in paintings, and ultimately in an illustrated book of the same name, published in a small edition by the gallery.
The same year he finished Jews of Today, he enrolled in Pratt's MFA program, where he was awarded a $30,000 fellowship. As a student, he was elected to head Pratt Artists' League, an organization connecting MFA candidates to opportunities in the arts. He graduated in May of 2015, and in November of that year, he attended the Vermont Studio Center as an artist-in-residence.
Michael have since been working in Brooklyn as an artist and illustrator, and remain active in Pratt's alumni community.
LABA PROJECT:
For LABA's 2016-7 session, I will make a series of drawings exploring my memories of the Los Angeles Riots, both as a historical event and as a metaphor for my own conflicting desires for expression and control.
WORK SAMPLE:
What drew you to apply to LABA?
I visited LABA several times during last year's session at the invitation of a friend. I was immediately impressed by the openness, creativity, and intellectual curiosity of the LABA fellows. I wanted to join the program to bring the energy of the LABA community into my own work, and hopefully to be a source of similar enthusiasm for other artists as well.
What calls to you about this years particular topic, OTHER?
Other is a dynamic, even a dangerous subject, one sure to expose faults and vulnerabilities in all the participating artists. Investigating other as a group means we are all putting ourselves on the line together. This lends a sense of consequence, weight, and meaning to the endeavor and to the work that comes out of it.
---
---
---