Meet Fellow Laura Beatrix Newmark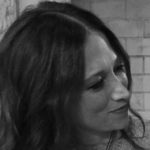 Laura Beatrix Newmark is the Jewish Life & Culture Fellow at The 14th Street Y. She builds community amongst the young families of the 14th Street Y through interactive and creative programming. Her intersection with the arts spans multiple decades (starting with playing the cello from age six) and includes quoting a young stand-up named Jay Leno at her bat mitzvah, watching every episode of The Jon Stewart Show and then sneaking into a comedy club to tell him she was Jewish, then managing a roster of stand-ups and improv artists and leading up to her greatest creative role yet of being the mom to Elias Pablo and Milo Liev.
Laura holds a BA in Urban Studies with a concentration in English from Barnard College.
LABA PROJECT:
mOTHER. other not mOTHER.
A spoken word performance of six  stories on the concept of mOTHERhood.
WORK SAMPLE:
alize-of-vandalinda-and-her-cow-moo-ln
What drew you to apply to LABA?
Attending LABA sessions last year as a Fellow at the 14th Street Y was exciting, enlightening and energizing. It made me feel like I was back in school and reminded me of the thrill of intellectual engagement and discourse. I loved delving into ancient Hebrew text and finding the timeless stories and lessons, the foibles of the forefathers and foremothers, and the shared sense of flawed humanity. The opportunity to create a project seeped in Jewish text, to learn and share amongst a fascinating community of artists, and to work to create a bridge of inclusion with other members at the 14th Street Y, made turning 40 this year more palpable.
What calls to you about this years particular topic, OTHER?
My first exposure to "other" was sitting in a gym at my elementary school for a rally where all the kids were shouting Reagan and I was shouting Mondale. And then came the annual Hanukkah time where most of my classmates asked why I didn't celebrate Christmas and then followed up with that they wanted to be Jewish at Hanukkah time so they could get a Swatch watch and other amazing gifts for eight nights. Well, that wasn't the case in my home where a Hanukkah gift was a a pair of socks or a book or as my parents would say, "our winter vacation is your Hanukkah gift."  Cut to a few nights ago when I binge watched Transparent and couldn't stop thinking of the concepts of "other" and "mother". I'm a mother, and since that time at the rally in elementary school, I often feel other, and the more I look at these letters, the more it makes me think about how appropriate that "other" forms the basis of "mother".
---
---
---