Meet Fellow Gil Sperling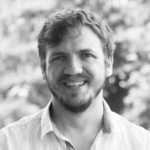 Gil Sperling is a multimedia artist and performance maker. He has created short films and video installations, video design for the stage, and multimedia performances.
Gil is a graduate of the School of Visual Theater in Jerusalem and holds a BA in psychology and philosophy. He spent a year as a fellow at the Academy of Media Arts Cologne, Germany.
His work as multimedia performance creator includes Shulamis or the Well and the Pussycat at Target Margin Yiddish Lab (New York, 2012), Sotto Voce, a multimedia musical-theater project presented in Berlin (2011), and Ruhe Sanfte, a musical-visual performance performed at the Israeli Opera (2005). Noted video design work includes City of Glass at the New Ohio Theater (2016), Trade Practices at HERE Arts Center (2014), Uriel Acosta at the Chocolate Factory (2014) and Don Giovanni at the Cologne Opera (2010).
His video installation work has been presented at the SVA Gallery in New York, Hellerau Arts Center in Dresden, Germany, Kampo Museum in Kyoto, Japan, and Ein-Harod Museum in Israel.
He has been awarded the Planet Connections Award (2012) for outstanding use of projections and multimedia in Trafficked, and the Operare 11 Prize for New Musical Theater Productions (2011) for the production of Sotto Voce. He is a New York Innovative Theater Award nominee (2016) for innovative design in City of Glass.
LABA PROJECT:
A Yiddishe Wagner is a music-theater project that offers a reimagining of classical music history in which Wagnerian or Wagner-like works were written in Yiddish, not in German.
The idea for this work originated in my work on the operetta Shulamis by Abraham Goldfaden. In his writing, Goldfaden admitted "borrowing" from classical composers, including Wagner, in order to artistically elevate Yiddish music-theater. In my adaptation of the operetta, I incorporated recorded music from Wagner's Götterdämmerung (Twilight of the Gods). The idea of fusing Wagner and Yiddish together began to excite me – two cultural elements that seem to repel each other like equal magnetic poles; or perhaps like matter and anti-matter, the reaction between them could unleash a burst of pure energy.
The outline of the project is the creation of a musical piece, sung in Yiddish, borrowing elements from Wagner's music while "Yiddishizing" the text, within the context of an alternative music-historical narrative (along the lines of "Did Wagner steal his music from an obscure Jewish composer?").
Wagner strove to create a new German mythology, with Norse sagas and medieval Christian legends among his sources. In the process of creating my Yiddish-Wagnerian hybrid, I would like to examine Jewish texts, from the Bible to Hazal, as parallel mythological sources.
WORK SAMPLE:
What drew you to apply to LABA?
Beit Midrash is more than an institution of Jewish learning: it has gained symbolic significance and become an image that has shaped perceptions of Jewish culture and intellectual history. So it's interesting for me to be in a program that uses the Beit Midrash as a hub for developing new work.
What calls to you about this years particular topic, OTHER?
OTHER comes up in various ways in my current project. Jews and Jewishness appear as Other in various forms in Wagner's work, from the assignment of Jewish stereotypes onto antagonistic characters in The Ring of the Nibelung and in Parsifal, to the indictment of "The Jew" as innately incapable of artistic expression in the essay Das Judentum in der Musik (Jewishness in Music). Wagner is considered an abomination, a "muktzeh" among certain parts of Jewish cultural discourse. Another form of Otherness exists at the linguistic level, in the relation and tension between the Yiddish and German languages. Yiddish evolved out of medieval German and carries German remnants in its vocabulary and grammar. In that way, speaking or writing in Yiddish always makes present a non-Jewish other.

---
---
---