Meet Fellow Franny Silverman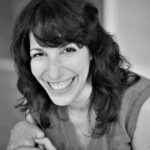 Franny Silverman is a theater-artist and educator who creates interactive theater, ritual and educational experiences for humans of all ages. Franny is currently the Director of Learning and Action for Brooklyn's independent, progressive synagogue, Kolot Chayeinu. This year she had the honor of being in the inaugural cohort of UJA's Ruskay Institute for Jewish Professional Leadership as well as training with and facilitating conversations on Israel as a Resetting the Table Facilitation Fellow. Drawing on her background in ritual and devised theater, Franny officiates tailor-made life-cycle ceremonies for families and couples.
She has created and performed in numerous new Jewish theater works for stage and ritual settings as an actor with Jewish Plays Project; a founding member, and former Associate Artistic Director of Storahtelling-Lab/Shul; and founding member of Wisconsin-based Northwoods Ramah Theater Company. Franny directed NY and touring productions of Ayelet Rose Gottlieb's mulit-media song-cycle Mayim Rabim/Great Waters (BRICLab, PS122, Wexner Center, Chicago Cultural Center). Her interactive Passover experience, UnSeder|DisOrder, was presented by Chashama's "Process is Fundamental" in 2010 and along with warner|shaw co-founder Annie Levy, she served as Indiana University's Jewish Studies Program's Paul Artist-in-Residence for the development of warner|shaw's The Latvia Project in 2012.
Franny has also had the pleasure of developing and performing new work with Little Lord, Woodshed Collective, Terranova Collective, Ensemble Studio Theatre, New Worlds Theater Project, Multistages, The Shalimar, Estrogenius,  Potluck Plays and Electric Pear, and others as well as revisiting classics with The Culture Project, Epic Theatre Ensemble and as a member of Brooklyn-based Brave New World Rep, including As You Like It (Rosalind), The American Clock (Doris/Edie/Toni), and The Long Christmas Dinner (Lucia).
LABA PROJECT:
Once a year, the Jewish people gather together to honor the commandment of retelling the biblical exodus from oppression to liberation, the ancient story of when the Hebrew people were oppressed as "strangers in a strange land" –the other. This retelling is explicitly designed to engage all people in the family, no matter at what level they are able or even interested to engage, no matter how inside or outside they may feel or be. Tradition holds that there be seats at the table for ALL who are hungry, that we open our homes and hearts, inviting in whoever might be "other" because we too were once (and maybe still are) the other. UnSeder|DisOrder is a disruptive embrace of the ritual of the Passover Seder. Where a traditional Seder is steeped in the order of its own name and the accompanying rules and regulations of Jewish law and communal and familial customs, the UnSeder is its chaotic doppelgänger.
UnSeder|DisOrder is a Seder exploded, embodied, deconstructed, reconstructed, self-guided and intimately communal. Reimagining the 15 traditional steps of the Seder as an interactive installation with encountered experiences dispersed throughout one venue, participants guide themselves and each other through the deconstructed and disordered actions, rituals, blessings and intentions, cobbling together a new map of engagement with the journey from oppression to liberation.
WORK SAMPLES:
Evolution of UnSeders – photo collage:
A Letter to my Mother on the Occasion of her Bat Mitzvah
Top (8)+1 Tips for Being the Best Non-Jew at the Hanukkah Party
What drew you to apply to LABA?
Making art. Exploring Jewish text. Smashing those things together with other humans in space. This is how I Jew. I understand LABA to be a place where I can do that with artists across disciplines, around a singular and expansive theme. What could be more exciting?
What calls to you about this years particular topic, OTHER?
A personal evolution of OTHERness:
I was always outside looking in. I practically founded my entire identity on the status of "other."  Years ago, in the depths of a post-adolescent existential self-discovery rabbit hole, I looked at my life and realized I was actually more in than out, more same than different, more of than other. And I was terrified. And confused. And falling down that rabbit hole into another, I wondered, after so many years of feeling othered, how much of my otherness was self-imposed after all.
I still think about those things sometimes.
And I think about the ways in which we not only other ourselves, but other the people around us. How do we benefit, as individuals and in our small groups, from othering ourselves? How do we benefit from othering others? What is most comfortable? What happens inside the discomfort of othering, of being othered, of being part of the group, of choosing not to engage, of being pushed out. And what happens when our differences are celebrated, when our otherness is elevated? What do we gain? What do we lose?
---
---
---