Meet Fellow Elana Greenfield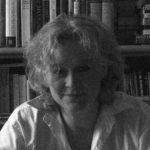 Elana Greenfield is the recipient of a Whiting Writers' Award in drama. Her critically acclaimed book, At the Damascus Gate: Short Hallucinations (Green Integer), was awarded The New American Fiction Competition. Among her works for the stage, most recently, Wrench (Part I), was presented at ArtsEmerson, Boston, produced by Sleeping Weazel, with prior works presented at such New York venues as La Mama E.T.C., The Vineyard Theatre, the New York Shakespeare Festival/Public Theater, and Bottom's Dream (LA). Her play, Nine Come, is included in New Downtown Now: An Anthology of New Theater from Downtown New York (University of Minnesota Press). Greenfield's articles and essays have appeared in Yale's Theater magazine and the Brooklyn Rail; her plays excerpted in Bomb Magazine and her radio plays heard on WNYC, The Radio Stage and public radio stations across the country. She currently teaches in the Arts and Interarts programs at The New School University's Eugene Lang College. She has also taught at, among others, Bennington College  and Bar-Ilan's Jerusalem Summer Writing Seminars. Born in New York City, she graduated from Sarah Lawrence College and holds an MFA from Brown University.
LABA PROJECT:
WRENCH is a play about living in a world that is becoming increasingly militarized due to 'natural' disaster and war. The first section of the play begins after a flood 'event'. The play is/will be written in six sections and function cumulatively. As the play progresses one could say the women have joined a militia and/or are in the military, probably 'deployed', and possibly have become cut off from their unit. However, the definition of what this means within the play-world should remain open. As the familiar world fades an ancient story/landscape begins to emerge.
Holding on to one's sense of 'cause and effect' in increasingly odd circumstances, is, among other elements, what drives the play thematically. For this piece the designs for many of the worn-props (life vests) and costumes can be found in the work of visual artist Kate Hamilton. The piece will also contain several 'dance numbers' integral to it. For these I am interested in exploring, with the performers, the work of the Batsheva Dance Company, in particular the 'Gaga' method of movement invented by its artistic director, choreographer Ohad Naharin.
If there is an organizing principle to much of my work, I would say at, or near the core, is OTHER. I am interested in peripheral vision, in things we catch site of at the moment they transform from known to OTHER or vice versa, the moment when OTHER transmutes into something which might feel familiar, known, or maybe once known.
WORK SAMPLE:
www.whiting.org/awards/winners/elana-greenfield#/
What drew you to apply to LABA?
I have always wanted to study ancient Jewish texts. As a child my grandfather's house was full of books, in old leather bindings, in seven different languages, none of which I could read. But I spent hours looking.
I was drawn to apply exactly because this fellowship is so unique:  to be part of a 'House of Study' not based in a religious institution or an academic one, but actually housed in a living/dynamic/community-based center and which offers an opportunity to study ancient texts around a table of thinkers and artists – this is a very unusual and exciting prospect.
What calls to you about this years particular topic, OTHER?
So many things. Here are two:
1.  This past winter, seeking shelter from the side effects of a sandstorm occurring elsewhere in the region, I met a stray Lacanian psychiatrist also seeking shelter in the same café. As we looked out at the wash of yellow and gray with an interesting green shape in the foreground (which we knew from recent memory to be a tree, on a city street delineated and named Shlomo ha-Melekh), he suggested I read Revealment and Concealment in Language by Hayim Nahman Bialik and paraphrased the following from the afterwards to the book by Z. Gurevitch (Eternal Loss, An Afterward):
"'Ordinary' language is so appealing [because] it pretends to contain something tangible. This is the concealment of language, a shield of a kind against fear, not unlike the fear of peering beyond the curtain […]"
2. The work of Paul Klee, Cat and Bird (1928): 
"A line is a dot that went for a walk". Paul Klee
***          ***           ***    ***              **      ***      ****
---
---
---