Lior Zalmanson discusses "Swipe Me Right"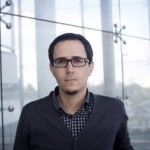 On Thursday, March 17, LABAlive will present an evening of theater and subversive teachings exploring our relationship with beauty. The evening will feature teachings by Ruby Namdar and work by fellows Kendell Pickney, Joshua Max Feldman, and Lior Zalmanson, who will present his neo-cabaret, Swipe Me Right.
Here, Zalmanson talks about his project and the inspiration he found in our house of study.
Tell us about your project.  
Swipe Me Right is a neo-cabaret that mixes Tinder, YouTube, karaoke and Kabbalah to explore our ever-growing need for validation from others. (By the way, I'm not completely sure what a neo-cabaret is, but I thought it sounded better than a cabaret cabaret.) It's actually more of a rebuke of all things Tinder, but I don't think rebuke sells tickets. Also, it features Noga Morahg, who is a fabulous singer, actress and partner for this entire crazy thing.
How do you see it developing in the future?
Swipe is still a work in progress, or a research-in-the-making. We are exploring a longer version, which means much more karaoke of kitschy cheesy '50s songs and even more cringe-worthy love-seeking videos from YouTube.
Any new thoughts about beauty?
On the internet, it's all about taking the right photo. There are unbelievably average-looking people who can be perceived as the most beautiful creatures online.
Which of the texts we've studied so far, or the discussions we've had, have most stuck in your mind, and why?
The text on Rabbi Ishmael, who was murdered by the Romans. The Talmud hints that it was because he was so beautiful that the Cesar's daughter wanted his ripped-off face to look at every day. And you thought Tinder boys were creepy!
How have they, or other texts, inspired this work?
This work is inspired by Rabbi Luria's notion of the order of the Sefirot. These are 10 attributes through which God manifests Himself to us and creates our worlds. You could think of the Sefirot as the answer to how the infinite God intervenes in our finite world. Rabbi Luria noted that the 10 Sefirot can be ordered to look like a human face and can be divided into a right side and left side. The play refers to how both in the Sefirot and in Tinder, right is the "right" side and left is a big no-no.
---
---
---