Joshua Max Feldman discusses "The Devil and the Wandering Jew"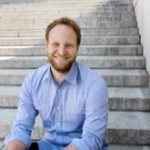 On Thursday, March 17, LABAlive will present an evening of theater and subversive teachings exploring our relationship with beauty. The evening will feature teachings by Ruby Namdar and work by fellows Kendell Pickney, Lior Zalmanson, and Joshua Max Feldman, who will present scenes from his play in progress, The Devil and the Wandering Jew.
Here, Feldman talks about his project and the inspiration he found in our house of study.
Tell us about your project. 
I'm writing a play called The Devil and the Wandering Jew. For the LABAlive event, I'll be debuting a couple scenes in a staged reading. The play revolves around a rabbi at a reform synagogue in Massachusetts who decides to run away from his congregation when he learns that a bar mitzvah date has been double-booked. It turns out this rabbi has an important role to play in the divine order — he has a profound spiritual beauty that he doesn't recognize, and in the wake of his disappearance, the whole world starts to fall apart. I'm very interested in the meeting point of the sacred and day-to-day, the spiritual and the banal — I think Judaism is all about negotiating that distance between what is divine and what we do in our dull, daily lives.
How do you see it developing in the future?
I started out imagining a small, comedic work, but now I see that this needs to be a big old multi-act drama, chock full of characters and ideas, reflecting the messiness of trying to get things right.
Any new thoughts about beauty?
It's been very interesting to see how the authors and characters of the Bible and the Talmud reckon with the destabilizing force that is great physical beauty. It's like a sort of kryptonite to the conventional order of things — spouses betray spouses, brothers betray brothers, countries fall apart. It makes me feel better about contemporary America's obsession with beauty — maybe we're not wrong to think it demands attention.
Which of the texts we've studied so far, or the discussions we've had, have most stuck in your mind, and why?
The martyrdom of Rabbi Ishmael was one of the most horrifying things I have ever read. It's a true work of religious horror, more terrifying than any "existential" writing I've encountered. The notion that we might be "all alone in the universe" is one we've gotten used to, and if the whole point is, Who cares? then, well, Who cares? The story of Rabbi Ishmael's face being peeled off horrifies because even God avers there is no way to stop it: horror, in other words, is as much a part of the divine order of things as beauty. Suffice it to say, history confirms this.
How have they, or other texts, inspired this work?
Jewish religious writing is courageous in that it doesn't shy away from the strange, the confounding, the frustrating, the frightening. It acknowledges all that as inevitable in human existence. I hope this play shows some of that same courage, though inflected as comedy, and in a contemporary setting.
---
---
---