Meet Fellow Lainie Fefferman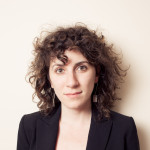 Exploring the personal and the idiosyncratic aspects of music-making, Brooklyn composer Lainie Fefferman's most recent commissions have been from ETHEL, Kathleen Supové, TILT Brass, James Moore, Eleonore Oppenheim, JACK Quartet, and Dither. Her recent evening length piece Here I Am for Newspeak and Va Vocals, the culmination of her residency at Roulette through the Jerome Foundation for the 2013-2014 season, was warmly received by a sold-out audience. Starting in April 2015, she began her time at HERE Arts Center as a resident fellow, where she will create a multimedia opera based on ancient mathematical texts for sopranos Mellissa Hughes, Caroline Shaw, and Martha Cluver, with Mantra Percussion and lighting designer Eric Southern. Fefferman is the founder and co-director of Exapno, a New Music Community Center in Downtown Brooklyn, lead-organizes the New Music Bake Sale, and is co-founder of the New Music Gathering, a national new music event. She received her doctorate in composition from Princeton and continues to be a performing member of Princeton-based laptop ensemble Sideband.
LABA PROJECT:
For years, I have been urgently drawn to James Sturm's graphic novel Market Day. It tells the story of a visionary rug maker in turn-of-the-century Europe who is fast coming to the realization that he can longer support his family doing the art he loves, pursuing the beauty he understands. It's a poignant story told lovingly by Sturm with his stark, but warm, illustration.
I'm hoping to set the whole book to music over the course of the coming years. Ideally, I'd love for my project to be a live-string-quartet performance, or pre-recorded soundtrack that plays during projections of the novel itself. The pictures are so moving. I'm not sure quite how the mechanics of this are going to work, but JACK, a wonderful NYC-based string quartet who have signed on to the project, are fabulously supportive and I'm hoping to develop the work with them and for their particular sound and talent. I've already written them a few sketches for the work, and they've brought my ideas to life with astounding clarity. I can't wait to continue this journey with them!
WORK SAMPLES:
What drew you to apply to LABA?
I've spent so much of my intellectual and artistic life grappling with issues brought up by my Jewish identity. When a previous LABA fellow mentioned this residency to me, I was so excited to continue my grappling with a community of curious and questioning artists.
Why do you want to study beauty?
What beauty means in the context of music has evolved for me over the years.  Refining what beauty means to me now, at this age and in this artistic phase of my life as a Jew and a New Yorker, is what I hope to occupy myself with this year. The project I hope to develop during my LABA residency, music to a film realization of the graphic novel Market Day, will be concerned with what it means to craft a life around a pursuit of beauty.
---
---
---