Meet Fellow Kendell Pinkney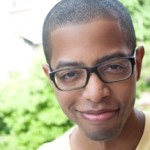 Kendell Pinkney is a Texas-born, Brooklyn-based theatre writer. A graduate of Oberlin College and New York University's Graduate Musical Theatre Writing Program, his collaborative works and songs have been performed and/or developed at venues such as 54 Below, Two Rivers Theatre Company, Goodspeed Opera House, Musical Theatre Factory, The 52nd Street Project, and Joe's Pub, to name a few. Additionally, he was commissioned by Pursuit Productions to pen a new play based on the Lilith myth, which will premiere in Chicago in late 2016/early 2017. More recently, his broader interests in identity, race, and Jewishness led him to team up with renowned spoken-word artist Vanessa Hidary (aka, the Hebrew Mamita) to produce Kaleidoscope, a multi-media project and monologue showcase highlighting Jews of diverse racial and ethnic backgrounds. When not writing for the stage, Kendell is extensively involved in Jewish life and education in Brooklyn, and can often be found at a local cafe buried in the footnotes of a new book on Hebrew Bible or Second Temple Literature.
LABA PROJECT:
I must have been about five years old when I first heard the story of Ruth — a young woman who refused to leave her mother-in-law, Naomi, following the deaths of both their husbands. "Do not urge me to leave you," Ruth cries to Naomi. "Where you go, I will go. Your people are my people. Your G-d is my G-d". For some reason, even as a child, I loved this story. Granted, since Ruth's story was in the Bible, I assumed that she was talking about joining me and my people — that is, black people, Christian people, Texan people. However, as I grew up and embarked on my own conversion to Judaism, I came to understand just how remarkable and different Ruth's story is.
Ruth doesn't even consider staying in her homeland when Naomi says that she's leaving. Instead, she boldly declares that she will go with her. End of discussion. The rabbis praise Ruth for this; she is righteous, kind, modest, generous — an exemplary convert. What is more, they call her a great beauty even though the Book of Ruth never once claims that as one of her attributes. Over the years, I have wrestled with how to situate my identity within Judaism, but the conclusions haven't come to me as easily as they did for Ruth. Instead, I am often left with questions: How does my personal biography "fit" within Jewish narratives? Does my choosing to be "chosen" beget beauty as the rabbis seem to imply? Is my past heritage "ugly"? How do I make sense of rejecting parts of my background, and potentially being rejected by others who will never view me as authentically Jewish? Jews By Choice is a narrative theatre piece that will explore these questions. By weaving together sacred texts, movement, and music into the intimate stories of a diverse group of converts, I hope to create a dynamic snapshot of what it looks and feels like to cross over into Jewish peoplehood.
WORK SAMPLES:
"2149 Valley Street" from the musical MANchild by Kendell Pinkney and Roderick Whitley
Intro/Outro by Avi Amon and Kendell Pinkney from the RATED BLACK Soundtrack 
What drew you to apply to LABA?
LABA's premise of studying classical Jewish texts and using them as an impetus for creation is unique among arts fellowships. As someone who straddles the worlds of theatre and Jewish life/education, it is nice to be part of a program that encourages me to bring all of my interests to the table.
Why do you want to study beauty?
Beauty interests me because of its relation to aesthetic correctness, perfection, and virtue. Beauty terrifies me for all the same reasons, because each of the above attributes implies its opposite: aesthetic incorrectness, imperfection, and vice. This, in turn, raises the more troubling issues of who gets to decide what is beautiful and what is ugly, and why should someone/some group have that power? To me, these questions carry a good deal of heft, because beautiful things affect how we relate the world, and the consequences of being beautiful, or possessing beauty, are tangible in how the world relates to us.
---
---
---