Meet Fellows Rebecca Margolick and Maxx Berkowitz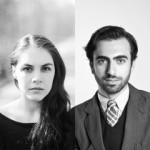 Rebecca Margolick and Maxx Berkowitz are a Brooklyn-based integrative and experimental performance collaborative.
Rebecca Margolick was born and raised in Vancouver, Canada. She graduated with an honors BFA in Dance from NYU – Tisch School of the Arts and received the J.S. Seidman Award for Excellence in Dance. Primarily based in NYC, Rebecca is a company member with Sidra Bell Dance New York. She currently works with Shay Kuebler Radical System Arts in Vancouver, Chuck Wilte's UNA Projects in NYC and with Derrick Belcham and Emily Terndrup. She has received grants from the Canada Council and BC Arts Council to attend workshops around the world. Rebecca has taught at NYU Tisch School of the Arts, Rutgers University, Simon Fraser University, and Tanz Farm in Atlanta, and will be co-directing a class at University of the Arts in Philadelphia this fall semester.
Maxx Berkowitz is an interactive art director/designer, as well as a guitarist in the band Twin Wave. He has a wide creative skill set, including video, photography, animation and development. After graduating from Syracuse University with a dual major in Graphic Design and Information Management and Technology, Maxx worked as a designer at Showtime Premium Television Networks and the digital agency Bajibot. Since beginning freelancing in August 2013, Maxx has worked on projects from the award-winning 2013 interactive Macy's holiday windows to websites for Mercedes, Time Inc. and Starbucks and for many top advertising agencies including Razorfish, JWT and Wunderman.
LABA PROJECT:
This live performance, which layers dance and interactive media, explores how the ever increasing time we spend consumed by technology and the online world can profoundly shape our self image, emotional stability, and relationships with others.
The work revolves around two characters and the ensuing degradation of their physical and emotional communication to each other and themselves. The ever increasing deluge of information and distraction of the virtual world, so ingrained in their everyday lives, ultimately distances them from reality. The dichotomy of these characters' responses to the ever-increasing flow of stimuli and mass-produced image of beauty (whether for the better or to their own detriment) is the momentum behind this creative exploration.
WORK SAMPLES:
Maxx: Twin Wave Album Teaser Video
Rebecca: It fit when I was a kid
What drew you to apply to LABA?
As a musician and media design technologist and a dancer/choreographer, we had been examining how to develop our artistic and creative growth by working together. After learning of the 14th Street Y's program LABA and its focus on cross-disciplinary art forms in a Jewish context, we felt that it would be the perfect forum to present our ideas and the new work we had been thinking about.
Why do you want to study beauty?
Beauty is an undeniable force in influencing how we act, respond and make decisions. We're interested in studying how the online world has influenced our perceptions, changed our sense of attraction and glorified our base instincts of voyeurism and false affection. We want to encourage people to think about how we are affected as a race in this world of hyper-realism and unrealistic expectations of beauty and accomplishment.
---
---
---