Meet Fellow Joshua Max Feldman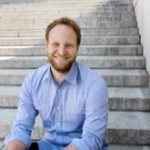 Joshua Max Feldman is a writer of fiction and plays. His debut novel, The Book of Jonah, a modern retelling of the Biblical Book of Jonah set in contemporary New York City, was published in the U.S. in February, 2014, by Henry Holt. Amazon named The Book of Jonah the Debut Novel of the Month, and the New York Times praised it for "storytelling infused with energy" and declared it "worth applauding." The Book of Jonah has been translated into nine languages and published in France, Germany, Spain, Italy, Israel, and more. Joshua's New York theater career began when his play HeartBreakWordMusic was produced at the Under St. Mark's Theatre. Joshua's theatrical works have also been featured as part of the Edinburgh Fringe Festival and the Williamstown Theatre Festival, and have been produced in New York at the 78th Street Theatre Lab, the HERE Arts Center, the Flea Theater, and more.
LABA PROJECT:
There exists in Jewish folklore a woman called Lilith, beautiful and dangerous, by tradition Adam's first wife, prior to Eve; Lilith would not submit to Adam's authority, and left the Garden of Eden. In medieval times, Lilith was regarded as a nightmare figure, focusing anxieties over sexually liberated femininity: Lilith was a killer of infants, a tormenter of men in their dreams. Not surprisingly, in contemporary, liberal Jewish literature, Lilith is a much more heroic figure — a symbol of resistance to male hegemony.
I'm going to write a play with Lilith at its center. In the tradition of works like Oscar Wilde's Salome and Archibald MacLeish's J.B., this dramatic reimagination of an ancient tale will be written in verse, and tell the story of Lilith and Adam's divorce proceedings before a panel of rabbis. Eve will of course figure prominently, as will a chorus of angels, commenting on the action. The play will have an all-female cast, with women playing the male roles (Adam, etc.). The work will explore themes of physical beauty, the natural paradise of the Garden of Eden, sexual and spiritual love — and how all these can be lost through private and collective fears, personal resentments, and the compulsion to control those we love the most. I envision a work that uses a timeless story to address contemporary dilemmas around masculinity and femininity, sex and love, individuality and personal responsibility. Who is Lilith? What does she have to say to her husband, to her Creator, and to us?
WORK SAMPLE:
The Book of Jonah, Chapter 1.
What drew you to apply to LABA?
I was drawn to apply exactly because the fellowship is so unique: one does not have many opportunities to study Talmud with a table's worth of artists. Contemporary life is crammed with information but is thin on wisdom; I'm excited by the prospect of studying the slower, richer, stranger texts that form the foundation of Judaism.
Why do you want to study beauty?
Beauty grips us like nothing else, but it doesn't hold up to intellectual scrutiny at all. Physically, it's a biological accident that plays on societal biases and/or subconscious genetic programming — really, we ought to know better than to care if somebody else is good looking. And yet, we're riveted by beautiful people. And then there's the beauty of art, nature, ideas, yadda yadda yadda, all the aesthetic stuff. I don't deny the beauty that surrounds us, but do suspect it grows more elusive the more we talk about it — categorize it, analyze it, parse it. In short, beauty is weird, and that's why I want to explore it.
---
---
---