SHAWN SHAFNER TALKS ABOUT 'EAT YOUR FEELINGS'
LABA FELLOW SHAWN SHAFNER TALKS ABOUT HIS NEW COMMUNITY-BASED ARTWORK, FERMENTING MEMORIES AND WHY HE NOW MAKES SURE TO LOOK FOR THE MOON EVERY NIGHT. COME SEE HIS NEW WORK IN "TIME INSIDE US," 6/4 AT THE Y.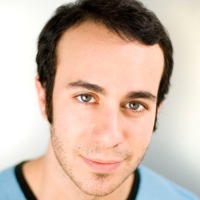 Tell us about your project.
"Eat Your Feelings" is a community-based artwork that explores how the stories we tell ourselves about our lives change over time, and how they change us. For the piece, community members from the 14th Street Y are solicited for their stories on a theme. These include: bitter, sweet, and spicy/sour. Participants then meet one-on-one with me to tell their stories and transform it into a corresponding fermented food like horseradish pickles, honey wine, and fruit kimchi. The resulting ferments will bubble in the 14th Street Y lobby for two weeks, along with personal artifacts of the story and a link to an audio of the story. During "Time Inside Us," I'll tell one story from each theme as audience members consume its edible equal.
The idea for this project came out of my Passover seder last year. I've been an avid fermenter for a few years now, and had made a series of themed pickles to go along with the meal. I began thinking about how the Passover story is, like those pickles, preserved. And also, like a cucumber in brine, the story has taken on different flavors over time, and each seder will bring their own spice to the tale. During Passover, we externalize our communal narrative, and are literally and figuratively transformed in its consumption. "Eat Your Feelings" is an attempt to conjure this experience on the personal level, offering participants a reflective taste on who we become if we are what we eat.
How do you see it developing in the future?
I think of this piece as being self-contained, and living its full cycle during this LABA season. That said, I continue to be interested in these questions and in the intersection of stories and food. I would love to do the project again, perhaps in a different permutation, should the opportunity arise.
Any new thoughts about time?
This LABA year has gotten me to think much deeper about the human aspect of time: the act of naming, measuring, and assigning meaning to something that otherwise occurs without our intervention. Judaism is such a time-based practice. Often, time-based rituals are created to bring structure into our lives. This year has opened me up to some of the ways that being dependent on time can actually create more chaos.
Which texts that you studied this year so far have most stuck in your mind? Why?
The text about the moon, and the farmers who were responsible for reporting its phases to the Rabbis, lingers the most in my mind. It helped to solidify some thinking I'd already been doing about the tension between "man-made time" and "natural time," and the hilarity that can ensue when they interact. It's also led me to seek out the moon each night, to be more aware of its cycles.
In planning this piece, I thought a lot about the ancient High Priest accepting sacrifices on the altar and physically transforming sin to purity through fire. These images, and the texts surrounding priestly duties have played out most in my mind. These are texts I knew from before, however, not texts from this year's LABA studies. The Ecclesiastes text we began with "turn, turn, turn," has been influential for me in thinking about the seasons and thus seasonings that each experience might bring into our own personal life brine.
---
---
---