TIME INSIDE US. 6/4.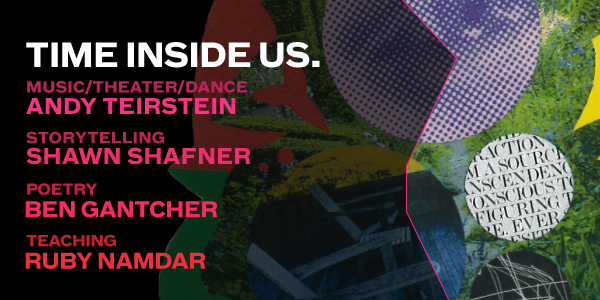 JOIN US FOR AN EVENING OF SUBVERSIVE TEACHINGS AND INNOVATIVE ART AND PERFORMANCES INSPIRED BY ANCIENT JEWISH TEXTS.
An exploration of the effect time has on our bodies and minds, and the effect our bodies and minds have on time.
THU 6/4 7:30PM
$20
FEATURING:
MUSIC/ THEATER/DANCE
"The Vagabonds"
Andy Teirstein
Andy Teirstein's "The Vagabonds" is an exploration, through new-opera and dance, of a realm beyond time. Inspired by the poems and illuminations of William Blake, the piece tells the story of traveling street performers who present a dancing side-show on a portable stage.
STORYTELLING
"Eat Your Feelings"
Shawn Shafner
We are what we eat. We are the stories we tell ourselves. Shawn Shafner empowers community members to transform personal narratives into bitter pickles, sweet mead and spicy fruit kimchi, investigating the intersection between the foods we preserve and the stories we hold onto. Stories and edibles will be consumed; who will we become?
POETRY
"Doctor Caliban"
Ben Gantcher
Gantcher will read a sequence of new poems written through an alter ego, Doctor Caliban, nighttime flaneur (i.e., peeping Tom) and secret animist. The doctor has reached a reflective phase and is walking the line between memory and reinvention. Attendees will receive a packet of postcards sent from his reveries.
LEARNING
"Our Texts, Our Selves"
Ruby Namdar
Namdar will explore the intersection of the passing of time and the human psyche in ancient Jewish texts.
---
---
---