BEN GANTCHER TALKS ABOUT 'DOCTOR CALIBAN'
BEN GANTCHER TALKS ABOUT HIS NEW CYCLE OF POEMS, THE PLEASURE OF DRAWING BOUNDARIES AND WHY TIME IS THE "AMINO ACID SOUP OF THE SELF." COME HEAR HIM READ HIS NEW WORK ON 6/4. TICKETS HERE.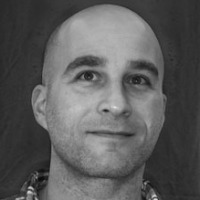 Tell us about your project.
An old alter ego, Doctor Caliban, had been surfacing around the time Ronit, Elissa and Ruby gave me the great gift of a LABA fellowship. The doctor had been born about a decade earlier when I was admiring the alter egos of Jack Gilbert and Zbigniew Herbert, two of my pole-star poets. Gilbert sometimes wrote as Orpheus or Prospero, but I was more comfortable imagining myself in a position like that of Herbert's Mr. Cogito. Doctor Caliban dramatizes those feelings. He's educated and knows what it takes to seem refined, but at heart he's the brute we know from The Tempest and an animist due to his one-time familiarity with magic and spirits. The idea behind this batch is that he's marshalling the material of time — memory and the self that calibrates itself against memory.
The poems are like postcards written to a variety of figures from his past — Prospero, old lovers, his wife — and they use the doctor's memories, confabulations, and scenes that might have been glimpsed through windows at night. In fact, while he seems to confess that he's a peeping Tom, that might be another one of the fictions by which he lets us circle around the unlocatable center of his nature.
How do you see it developing in the future?
Doctor Caliban has recast himself with this sequence of poems. They give his story a peculiar shape that tapers toward the style that he prefers to work in. If he continues to write, the work will probably be in the same vein as the most recent poems in the sequence, which you can hear and see on June 4. I say "see" because every member of the audience will receive a packet of Dr. C's poems as postcards, and the images on those postcards are visual translations of the poems, cooked up by my friend and collaborator Charles Luce.
Any new thoughts about time?
In addition to what I've said already, I would add that time is shrieking. Time is the amino acid soup of the self. It feels good to mark social time. I like spending time. It's the magic wardrobe with furs and snow.
Which texts that you studied this year so far have most stuck in your mind? Why?
I used a line from Ecclesiastes in the poem I wrote first but which occurs second in the sequence. After we discussed a Talmudic text about the eruv, I thought about the need to draw, or the pleasure taken in drawing, actual and metaphorical boundaries, and I've been trying to connect that text to the one in which Honi draws a chalk circle around himself and tells God that he won't step out of it until it rains. The Honi text sticks with me because it's so goofy; Honi's a favorite of God, but he seems like a dope, a species of holy fool. I'm probably jumping to conclusions from my all but total ignorance of the Honi literature, but I'm going to write an article for the LABA journal in which I try to make that connection and others in the extensive and fascinating literature of chalk and its erasures. See me connect Honi and Matthew Arnold, gazing at history from the chalk cliffs of Dover.
How have they, or other texts, inspired this work?
I think my other answers address this question, but I can add that I'm interested in learning more about ancient Israel and so have been reading The Bible Unearthed, which explains how archaeology has revised the history of the Bible lands. Reading about Abraham and his descendants, I came on the passage about Jacob's ladder, which Doctor Caliban thought would fit into a poem. He took a line from it and titled the poem "The Exhaust Fan of the Lord."

---
---
---