SACRED TIME. 5/23. FREE.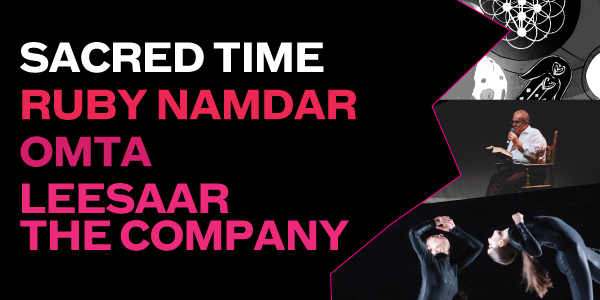 SACRED TIME.
SAT 5/23, 9PM
FREE
How do we make time holy? What boundaries, physical and emotional, do we have to cross? Join us for an exploration into these questions with learning, dance and digital art.
Last February we had to cancel SACRED TIME because of a really bad snowstorm. We are pleased to let you all know that we have rescheduled the evening for May 23rd, when it will be one of the highlights of "Into the Night," a contemporary spin on Tikkun Leil Shavout. (For more on "Into the Night" click here.)
THE EVENING WILL FEATURE:
MULTI MEDIA: "We Live For Tomorrow"
At age 20, Omer was targeted by a suicide bomber who detonated 15 lbs bomb while embracing Omer from behind. After three weeks being unconscious he woke and began his recovery. Over a decade into this process, as preparation for another social art project and in attempt to control his PTSD, he participated in an exchange with Palestinian and Israeli artists in Palestine, where they spoke about their relationships to the conflict and their artistic practices. Through this process, we learned firsthand the power of engaging people in conflict resolution through art and that is what we hope to do with this project. With We Live For Tomorrow, we propose to work towards conflict resolution, healing and social transformation by building functional kids playground with joy rides, based on large-scaled replicas of shrapnel (bullets and metal-scraps) removed from Omer's body after he was the target of a suicide-bombing in the West Bank in 2000.
DANCE:
A new work from critically-acclaimed dance troupe LeeSaar The Company explores the sensual relationship between rhythm, flesh and beauty.
LEARNING:
Ruby Namdar will talk about the borders, internal and external, that separate the sacred and the profane.
THE THEATER AT THE 14TH STREET Y
344 EAST 14TH ST (14TH ST. & 1ST AVE.)
NEW YORK, NY 10003
---
---
---