LABA: Unlimited
Get your tickets for a full season of a subversive teachings, contemporary culture and copious wine drinking. LABA: Unlimited includes access to every single cultural event of the year along with an invitation to one of our intimate study sessions. Art, music, theater and dance, all inspired by ancient ideas.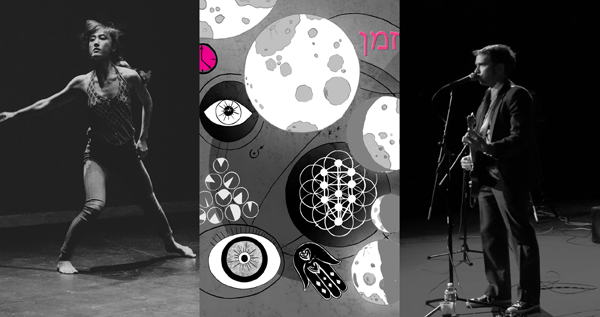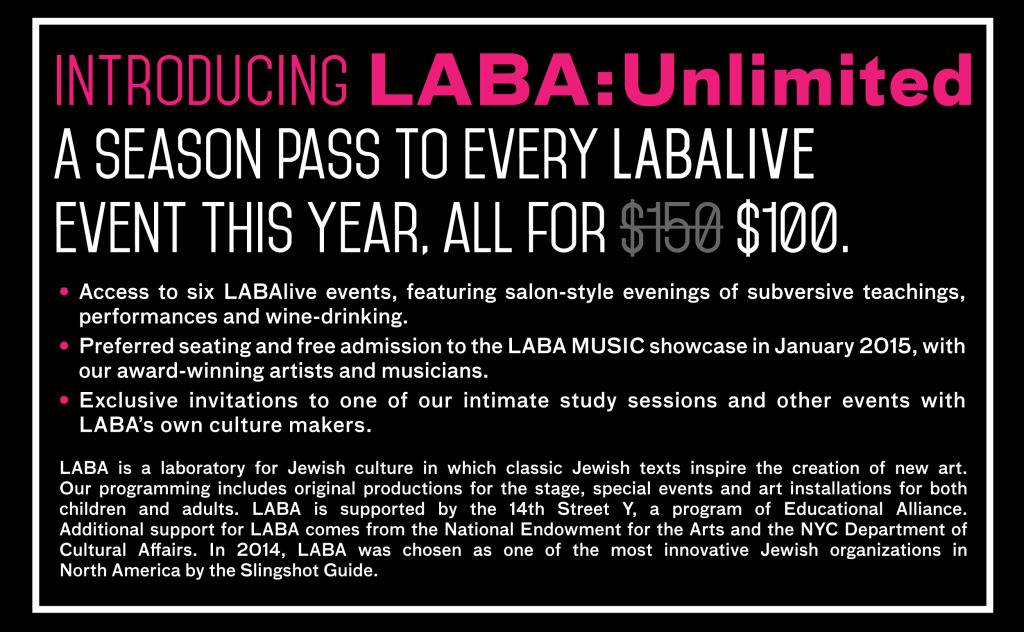 LABA:Unlimited will grant you access to:

LABA MUSIC. 
Yoav Gal. Nadav Lev. Alicia Svigals.
FRI 1/9, 8pm
SUN 1/11, 11:30am (Brunch)
60 minutes 
LABA presents award-winning opera and contemporary music by Israeli and Jewish composers. Featuring LABA fellow alumni Yoav Gal, Nadav Lev, and Alicia Svigals.

DRUNK.
SAT 1/24, 7:30pm
90 minutes  
You've seen wine paired with food, but how about wine paired with texts? Join LABA fellows, ancient text scholars and a sommelier as they explore the relationship between wine and time through teachings, tastings and performances. A sensual mash-up indeed.

CREATING TIME.  
Benjamin Kamine. Daniel S. Palmer. 
THU 2/26, 7:30pm
90 minutes  
Director Benjamin Kamine will present an excerpt of a new play exploring how Jews have constructed rituals to digest historical trauma, from the Exodus to the Holocaust, and how we will do so in the future.
Curator Daniel S. Palmer will present a new digital curation model that challenges traditional notions of narrative and time.
Ruby Namdar will speak about the relationship between the creation of the world and the creation of time.

SACRED TIME.  
OMTA. Lee Sher. 
THU 3/5, 7:30pm
90 minutes  
Art duo OMTA will present "We Live For Tomorrow," a personal and political digital art project about leveraging time as catalyst for transformation and growth.
Choreographer Lee Sher will create a new work with her company that explores the relationship between rhythm, flesh and beauty.
Ruby Namdar will speak about sacred time and profane time.

TIME OUTSIDE US. 
Sarah Friedland. Jenny Levison. Josh Waletzky. 
WED 4/1, 7:30pm
90 minutes   
Filmmaker Sarah Friedland will present excerpts from a video installation about the events that occurred during the 1948 war in the Israeli city of Lod (formerly Lydda).
Jenny Levison and Josh Waletzky will present an excerpt of their new music/dance theater work "The Last Dybbuk," which asks: "How do we know when an ideology's time is up?"
Ruby Namdar will speak about the way we use time to order the chaos around us.

TIME INSIDE US. 
Ben Gantcher. Andy Teirstein. Shawn Shafner. 
THU 6/4, 7:30pm
90 minutes   
Poet Ben Gantcher brings us into the imaginary world of his alter-ego, the "peeping Tom" Doctor Caliban, with a reading of new work amidst a projected landscape of synaesthetic maps.
Composer and director Andy Teirstein will present "Vagabonds," musical theater inspired by the poetry of William Blake about a street prophet and a mute.
Storyteller Shawn Shafner will share his "pickled" tales.
Ruby Namdar will speak about the presence of time in our bodies and minds.
WHAT IS LABAlive?
Every year, LABA: A Laboratory for Jewish Culture selects ten fellows from a variety of creative disciplines to study ancient Jewish texts at our house of study and use them to inspire new work. LABAlive is a series of salon-style evenings that give audiences a chance to see these works along with a subversive teaching of the texts that inspired them. In most cases, artists will present an excerpt of their works, which are often in early stages of development. Evenings conclude with drinks, snacks and schmoozing.
---
---
---