MEET FELLOW JENNY LEVISON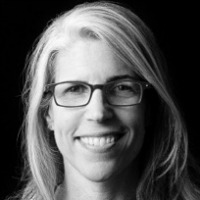 Jenny Levison is a playwright, screenwriter, theater artist, dancer, musician, and social justice activist whose work focuses primarily in the areas of immigrant rights and racial equality, economic justice, disability rights, LGBTQ equality, counter-white nationalism, and progressive Jewish activism. I've been deeply involved in Jewish performance for the past 20 years, starting with Yiddish folk song, and growing to include multi-media Yiddish performance, incorporating dance, theater, film, and video projection. Three notable Jewish works are Shtil, Mayn Corazon—A Yiddish Tango Cabaret, a dance, music, theater work, Don't Kiss Me, I'm in Training, a play with artwork about transgendered surrealist Jewish artist Claude Cahun, and Ezekiel's World, a multi-media stage adaptation of Michael Kovner's graphic novel of the same name. MFA: NYU Dramatic Writing.
Jenny is interested in the ways that people integrate ritual into their lives—from traditional Jewish life in 19th century Eastern Europe to ironic Jewish life in contemporary Brooklyn. Together with Josh Waletzky, she explores the ways these times are fundamentally similar, and looks to both to inform our art.
LABA PROJECT
(Together with Josh Waletzky)
We are creating a devised theater work with dance, music, and other design elements TBD, adapted from The Last Dybbuk—a mesoyre, a supposedly true story of the supernatural, that we found in Bine Weinreich's collection of Yiddish Folktales. Briefly, it's the story of a Hasidic wonder-rabbi, the Lashkovitser Rebbe, famed for his ability to exorcise dybbuks and a former Hasid named Mekhl, who has broken with Hasidism and embraced the haskole, the Enlightenment, and now believes that the whole dybbuk phenomenon is a sham. Mekhl challenges the Rebbe to a showdown, telling him that if he can truly drive a dybbuk out of someone, he should be able to drive a dybbuk into someone. He volunteers to be that person (to receive the dybbuk into his own body) and challenges the Rebbe to prove his powers. The Rebbe accepts the challenge, and sets the duel on Yom Kippur, the holiest day of the year.  When the Rebbe fails the challenge, Mekhl humiliates him by bending over, ass first, taunting, "Yishokeyni" ("Kiss me…").  The Rebbe retreats to his home in defeat, where he stays until his death. And that, the story says, was the last time a dybbuk appeared in Galicia. As collected, it's a short story with almost no development of the character's backstories or reasons for conflict. Who is the woman who is possessed by a dybbuk? Does she believe in dybbuk possession? Is she manifesting a fight against authority? Why did Mekhl break with Hasidism? What drives him to disprove the rebbe? What's his relationship to Yom Kippur? What about the townspeople/observers? Are they impartial observers? Do they feel pulled between two ideologies? When we started to do the work of adaptation, we realized that the story takes place as one era was coming to an end, and another was starting, and that this clash of time and ideology is central to creating a probing theater work from The Last Dybbuk. We're also interested in questions that we face in our daily lives, and the characters also face: how much time do you give something before you realize it will never change? When do you know that something (a relationship, a difficult period, a depression, a political or spiritual era) is over?
WORK EXAMPLE
"Project Menorah"
(Together with Josh Waletzky)
We are interested in the rituals of thinking up the ingredients, procuring them, and building the menorahs. We are interested in the ingredients themselves, and how they change the meaning of the menorah. Is a bagel, lox, and cream cheese menorah somehow more kosher than a Spam menorah? And speaking of kosher, does the shames need to be higher than the other candles when you are making a menorah out of Jell-O? Does the matzo ball menorah violate the custom against mixing simkhes? (ein m'arvin simcha b'simcha) We are also interested in the interaction of flame with food—especially of course when the oils in the foods keep the flames alive. Will the marshmallows catch on fire? Will the satsuma skins spark when the flame reaches them? Which keeps the flame alive longer—cheddar or whitefish? Finally, we are interested in the theater of it all. We turn out the lights. We watch the candles burn, dance, and die.
---
---
---