Meet Fellow Sarah Friedland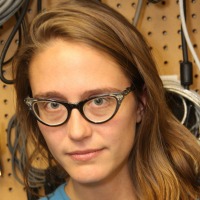 Sarah Friedland received her BA from Sarah Lawrence College and the International School of Film and Television in Cuba and her MFA from the Integrated Media Art Program at Hunter College. Her documentary films and installations are concerned with personal stories that reveal larger histories and intricacies about place and society. Friedland's works with her long time collaborator Esy Casey have screened widely in the US and abroad and have been supported by grants from the Jerome Foundation, the Paul Newman Foundation, the William H. Prusoff Foundation, The Princess Grace Foundation, the Ford Foundation, and the Center for Asian American Media. In 2009, after the debut of her feature documentary Thing With No Name, she was named one of the "Top 10 Independent Filmmakers to Watch" by the Independent Magazine. She is a recipient of the 2014 Paul Robeson award from the Newark Museum for her feature documentary The Rink. Her recent documentaryJeepney (directed by Esy Casey produced by Esy Casey and Sarah Friedland) will be broadcast on PBS in 2015. She is currently working on two projects: Memorials (with Esy Casey), a feature documentary about the way America memorializes its dead; and 5 x Lydda, a documentary video installation.
LABA PROJECT
"5 x Lydda" is a video installation comprised of five unique experimental, documentary films about the events that transpired over a few days in the town of Lydda (Israel/Palestine) in 1948. The films will be uniform in content (contain the same shots and sound) but each film will be edited using a distinct understanding/description of time as extracted from Jewish texts.  The five films will be shown simultaneously in a looping, video installation and may be comprised of interviews with those who were present, footage of the current city of Lod (formerly Lydda), and subtle reenactments. This project is in development.
WORK EXAMPLE
Any More a Portion from Sarah Friedland on Vimeo.
The Rink- 4 channel installation from Sarah Friedland on Vimeo.
FAVORITE THING SHE'S READ ABOUT TIME
"Einstein's Dreams" by Alan Lightman
---
---
---