LABA IS CHOSEN FOR THIS YEAR'S SLINGSHOT GUIDE
LABA IS NAMED ONE OF AMERICA'S  TOP 82 INNOVATIVE JEWISH ORGANIZATIONS
Tenth Annual Slingshot Guide Highlights the Best of the Thriving Jewish Nonprofit World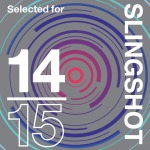 LABA: A Laboratory for Jewish Culture has been named one of North America's top 82 innovative Jewish organizations in the tenth annual Slingshot Guide. Selected from among hundreds of finalists reviewed by 112 professionals with expertise in grant-making and Jewish communal life, the Guide chose LABA because of our cutting-edge work combining contemporary culture and ancient texts. 
The Guide has become a go-to resource for volunteers, activists and donors looking for new opportunities and projects that, through their innovative nature, will ensure the Jewish community remains relevant and thriving.
The organizations included in the Guide are driving the future of Jewish life and engagement by motivating new audiences to participate in their work and responding to the needs of individuals and communities – both within and beyond the Jewish community – as never before.
LABA is under the artistic direction of theater director Ronit Muszkatblit and writer Elissa Strauss. Work created through LABA has gone on to appear at the Brooklyn Academy of Music, published in the New Yorker, and shown in prominent art and theater festivals around the world.
We could say more about why we think LABA special, but we thought it would be best to let our artist fellows explain for themselves.
"In many ways, LABA gave a small dose of the sense of community and the fundamental tenets of Jewish religious life that seems inauthentic in many of the 21st century Jewish communities in the USA that I have experienced. LABA authentically and unselfconsciously united community with spiritual thinking in an informal yet rigorous way. It felt seamless. I can't thank you enough for providing that opportunity."
Anita Glesta, Visual Artist and LABA Fellow (2011-2012)
What I enjoyed most about LABA, aside from the kinetic combination of creative personalities, was the study of surreal, absurd, horrific and/or maddening texts shorn of the moralistic mumbo jumbo that is traditionally used to desiccate Jewish literature.  The educators dove into ancient texts and grabbed the essential hyperreal, contradictory and captivating narratives at their heart, making connections between texts that illuminated themes, contexts and the best and worst kinds of perversions.  We were left with sketches and stories that provided an amazing foundation for all kinds of creativity.
Eli Valley, Graphic Novelist and LABA Fellow (2012-2013)
LABA was a very meaningful experience for me. I think of myself as being very Jewish internally but in a non-American way. … I was born in Russia and had no Jewish education. Hence I express my Jewishness through intellectualism rather than ritual observance, and also through certain psychological attitudes. I do a lot with numbers. I do a lot with philosophy of language. When I go to services (on the High Holy Days) I am off on the side because I can't read Hebrew and I don't know prayers–and even if I knew prayers, it's not like I can say them and mean them simultaneously–but also because I find it hard to assimilate myself into the congregation. I find such alienation painful. I've always wanted to be a part of a Jewish community, and especially to be a member of a study group. LABA made that possible: it was really exhilarating for me to come every third Monday and to take part in the study sessions with my peers. At the same time, I feel I benefited artistically both from exposure to their work and also from the [work I generated], which made me try new linguistic constraints and look at my writing from a new angle. Finally, as a professor, I really appreciated how the LABA instructors worked with textual interpretation. Their exegetic techniques, very different from what I am used to, showed me how to use imagination while performing close reading and exposed me to criteria and models of rigor that struck me as very fruitful.
Eugene Ostashevksy, Poet and LABA Fellow (2012-2013)
To learn more about LABA contact Becky Skoff, [email protected].
---
---
---