Ten Things You Share When You Share Food
A list of what is really at stake at the dinner table
by Elissa Strauss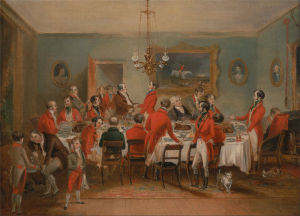 Over dinner the other night my husband told me about a slightly awkward business lunch he had that day. He was out with some higher-ups from a big financial firm at one of Manhattan's tonier dining spots and their PR person suggested that they share a bunch of dishes. He said he didn't want to dine family style with a group of strangers, but felt uncomfortable protesting as everyone else was game.
This was a risky move by the press person. Sharing food establishes an immediate physical and emotional intimacy, one that can potentially unite or divide. And should things go too far, there is no going back.
Here is a list of ten things we share when we share a plate of food.
We share our preferences. Amazing. Mmmm. Too salty. Too spicy. Or silently avoid a particular dish.
We share our religion. Vegetarian. Kosher.
We share germs.
We share our willingness to lead. Take more. Try this. We should get three sides of brussel sprouts, not two.
We share our health issues. Gluten-free. High blood pressure. Anorexic.
We share memories. We mention other meals, other moments, that the dish reminds us of. India. Spain. College. Our mothers.
We share our carnal nature. Chewing and swallowing make animals out of all us, and the elaborate attempts to formalize and ritualize eating through etiquette only reinforce how inherently vulgar the whole thing is. Share food with a CEO, queen or celebrity and the act of eating will turn them into, even if just for a moment, a flesh and blood being with appetites just like ours.
We share our capacity to trust. When we agree to share food we are agreeing to put our nourishment and pleasure in the hands of others.
We share our greed. And maybe our greed inspires greed in others, who scramble to take more than they need and eat faster than they should out of fear that there won't be enough.
We share our generosity, when we take it upon ourselves to make sure everyone is satisfied.
---
---
---