WHAT WE FIND THERE
Reflections from Scholars and Others
By Karen Loew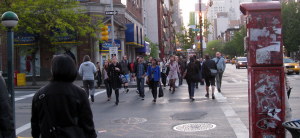 The question of what features make a city fit for a scholar prods us all to think about what we need or want in our city, our neighborhood, even our community center. What makes a place fit for me?
Related to another LABA project about the busy intersection at the Y's front door – a short documentary called "Intersection: Babel" – we asked a variety of Y-goers how they feel about this urban crossroads. Taking off from the Baylonian Talmud text, we extrapolated: Does this intersection provide what it should? What about the surrounding neighborhood?
Some people (especially those under age 8) had less to say about the intersection, but were eager to talk about the Y. And Roberta Mendelson was born two blocks away, but chose to sing the praises of all of New York City.
Tractate Sanhedrin Folio 17b reads, "It has been taught: A scholar should not reside in a city where the following ten things are not found…" This frame elevates our petty likes and dislikes. People have needs, and different kinds of people – whether scholars, children, athletes or elders – have different needs.
I need beauty, love and fellow-feeling. The intersection of 14th Street and First Avenue is not the best place to look for it!
Keyanna McBryde, 8
From Baychester, Bronx
At the Y: I'm in the afterschool program
What do you think about the intersection?
There's a lot of busy stuff, a lot of stores, a lot of places to buy stuff, like Dunkin' Donuts. Usually when we're walking, we see the Icee truck, and the ice cream.
Do you ever get to buy that stuff?
Not really. Only with my mom.
What's your favorite?
Vanilla with sprinkles. From the ice cream truck.
Have you noticed homeless people?
Yeah. They have boxes… sometimes people will donate to them and give them money. It's kind of sad.
What do you like about coming here after school?
They have cooking, my favorite class. And we get to have activities. It's like a little break off from school.
Jose Flores, 29
From East New York, Brooklyn
At the Y: I am a security officer, and also work out in the fitness center.
What do you think about the intersection?
It's horrible. If you're walking, you've got the right of way all the time. If you're in a car, forget it. You can never make a turn, go forward. The lights are too short. The turning signals are way off. It's just horrible. It's an accident waiting to happen, that's for sure. I've seen accidents once or twice in there. A truck and a car.
It's uglier than most intersections.
I agree, it's one of the worst ones that I've seen. And I've seen some horrible ones.
What would you add or subtract?
Definitely no more distractions on that corner. You don't need no more distractions, there's enough. There's the bus, there's the McDonald's, there's the train…
How else would you simplify it?
I would make no turning signals. Just straight. There's too much traffic. No lefts at all.
Ella Mahoney, 7
From the East Village
At the Y: I'm in the afterschool program.
What do you like about the neighborhood?
Pretty much nothing. It annoys me.
What do you dislike about the neighborhood?
It's too noisy.
What would you change?
Get rid of cars.
What else do you want to say?
About the Y – that the Y has different sections. Like the gym, and the 4th floor, and the roof. It's also cool because they have a theater.
Damien Shaw, 31
From Elmhurst, Queens
At the Y: I play basketball, work out, take my 2-year-old son swimming
How would you improve the intersection?
I don't know how you'd do that, because Stuyvesant's right there, and it's like a busy intersection. The best they can do, they do.
That left-turn lane, coming off First onto 14th – they need to make that walk sign a little bit longer. But, I'm not sure you can really control that, because people are gonna jaywalk and stuff like that. Then you got the bikes. It's heavily populated, this area.
Is it different than other intersections on the avenues?
It seems like it is. It is kind of unusual.
Would you add or subtract anything?
I can't really think of anything that would make it any different.
Roberta Mendelson, 65
From Rockland County
At the Y: I'm here to see the play "March." My daughter Michal is stage manager.
I was born at Beth Israel Hospital, which used to be Manhattan General.
Any thoughts about this intersection?
The one thing I will tell you is that I avoid New York City in the summer as much as possible. I don't like the way New York smells in the summer. The funny thing is, when I grew up in Brooklyn, that never bothered me, I was never aware of it, I was never aware of that breath of air that embraces you when you go near a subway station. It's like from another planet.
And yet there's no place like it. It's still home, it's always home. When I see Gray's Papaya, even though I don't particularly care for the hot dogs, it's just something that says New York to me.
We just came back from spending six months in Florida. It's not home. It doesn't have the edge that New York has. … Last week we saw Porgy and Bess. Next week we're seeing Evita. Not even London, not even Paris…New York is the city.
Clarissa Fara, 7 ½
From the East Village
At the Y: I'm in the afterschool program.
How do you like the neighborhood?
I really like it. I get to live really close to my best friend.(Ella) I just like living there. I've moved a lot. I've changed schools all my life.
Do you think you're going to stay in one place now?
Yeah. Because I go to Hunter. My parents said I'm going to stay there because it goes all the way up to high school.
What do you like about coming to the Y?
That I can be with my friends, and run around.
---
---
---